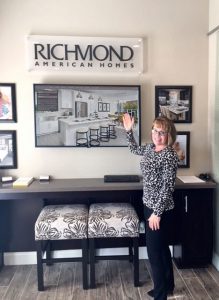 Repeat buyers and referrals are the bread and butter of any broker's business. So, when we heard about an agent who can claim not just two generations of a family as clients, but three, we had to ask her: What's your secret?
Sue-San Lambright of Coldwell Banker's Kappel Gateway Realty has been a Bay Area REALTOR® since 1989, and credits much of her success to her love of the industry. "Building a career out of making people's dreams come true is very fulfilling," she said. "I appreciate that a home is a happy purchase and believe in making a friend for life when helping someone find their new home."
On selling new homes…
Fortunately for local homebuilders—like us—Lambright is enthusiastic about new home construction. Her marriage to a retired custom homebuilder has given her insight into the benefits of new homes and a familiarity with the homebuilding process. She takes pride in educating homebuyers on the highlights, like energy efficient features, effective insulation, quality windows and the personalization options offered in new homes.
"Over 75% of my clients looking for a resale home change their mind and want a new build when they understand the differences," she said. She encourages other agents to impart knowledge about buying new homes to their clients, such as the potential resale value of a new home.
On working with Richmond American…
"Happy customers!" That's the phrase that comes to mind when we asked Lambright to describe what it's like to work with us. She describes her rapport with our sales staff in Dixon as phenomenal, and says her buyers enjoy being able to select the home features that fit their taste and lifestyle.
After three weeks in his new home, she said, a recent homebuyer called to tell her that she changed his life. Now, that's a job well done!
Want to see what we're building where Lambright is selling? Check out our Bay Area neighborhoods.
Want to share your own Richmond American sales story on our blog? Reach out to us here!