The shift to a more home-centered lifestyle—whether that's working (or working out) at home, schooling children remotely, or making dinner instead of reservations—has made a lot of people reevaluate how well their spaces fit the way they live today.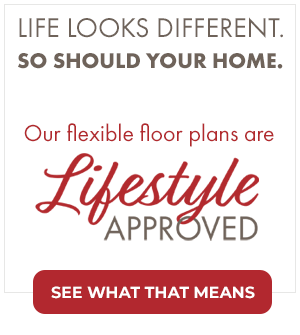 For house hunters seeking flexible floor plans with features like home offices and playrooms, outdoor living areas and tech centers, we've created Lifestyle Approved. This online hub helps connect buyers with the information and tools they'll need to plan and build a home that better supports their needs now and in the future.
If you'd like to inspire prospects with the lifestyle benefits of buying a new home that's tailored to their needs, we recommend sharing our Lifestyle Approved page and these articles from our homebuyer blog, Homeward™:
6 Work-from-home Solutions
If your buyers have experienced a shift to remote working or schooling, comfortable workstations may be high on their wish list. Show them how a flexible floor plan could improve their productivity (and family harmony).
Creative Ways to Use a Bonus Room
Whether it's used as a place to entertain kids, work on a hobby or escape on movie nights, a bonus room might sound pretty appealing to households with increased demand for shared spaces. This article outlines a few ways your clients' next address could be a better fit for the way they're living today.
Power Through 3 Common Home Gym Challenges
As gym membership becomes more problematic, your clients may be looking for ways to work workouts into their time spent at home. This article addresses some common obstacles people face when setting up a home gym and offers practical ways to overcome them—including the extra space a new home could provide!
RV Garage Types for Your Next Home
RV ownership is on the rise as more vacationers retreat to the great outdoors instead of urban destinations. If your clients have a super-sized vehicle to park, we have a solution that may interest them.
We're here to help you serve and support your customers as they shop our homes! Call 888.500.7060 to schedule in-person or virtual appointments, ask questions, get inventory lists, find out about our special offers and more.