We're excited to welcome Trulia as today's featured guest blogger. Trulia is widely recognized as an industry-leading provider of real estate resources and information, and all of the stats and insights below were compiled by Trulia's own research experts.
A recent report by Ralph McLaughlin, Trulia's Chief Economist, gives home sales professionals plenty to rejoice about, revealing that 2015 was the brightest year in real estate since 2008. Across the nation, new home sales rose 14.5% on a calendar year basis from 2014.
2015's market boost can be attributed to a measured increase in demand from homebuyers and more confidence in the new homebuilder industry. Hopefully, 2016 will follow the same trajectory and fuel more economic recovery, as an increase in new home sales will surely stimulate home-related consumer demand.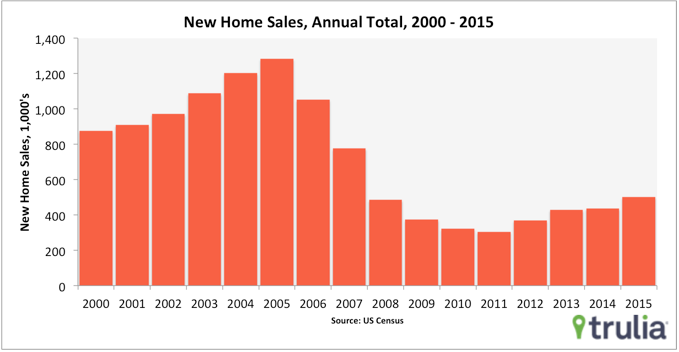 While the news is great nationally, it is most welcomed in the Southern and the Western regions of the nation. New home sales charged ahead dramatically in both of these areas. The South experienced a 17.6% increase in new home sales year-over-year, while the West turned red-hot with a 20.5% increase. New home sales were also solid in the Mid-West.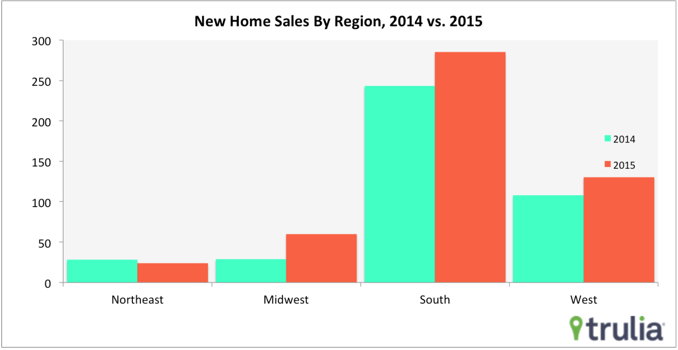 Another aspect to celebrate is that sales of higher-end new homes continue to rise. The largest jump was in homes priced between $300,000 and $500,000. These homes experienced a 2% increase, and now account for 33% of the overall new home sales market. Homes priced at $500,000+ represent 15% of the overall market, up 1% from 2014.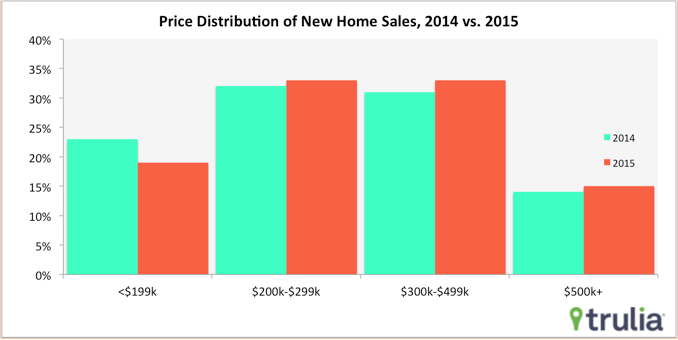 In Summary
2015 showed great progress in new home sales with a 14.5% increase year-over-year
The West is the hottest market, experiencing a 20.5% increase year-over-year
Homes priced $300,000 to $499,000 now represent 33% of overall new homes sales