Explore the Los Angeles mix of sunshine, family-friendly culture and recreation
Los Angeles is the jewel of Southern California, offering the best of big-city life, job opportunities, culture and outdoor recreation. Los Angeles truly has something for everyone. DiscoverLosAngeles.com describes the neighborhoods of the city as "eclectic, progressive, trendy, laid back or retro." Buying a home in the Los Angeles area can lead to a life of physical activity, entertainment, culture, fine dining and more. Los Angeles residents also enjoy amazing weather with a daily temperature ranging from a comfortable 60° to 75° year-round.
Dining
Los Angeles is brimming with restaurants of the highest caliber. These are just a few trendy places to kick start your culinary journey in style.
Upscale dining is on the menu at 71Above. Choose from multi-course meals with items such as wild-caught shrimp with mango, avocado, Fresno chile and sorrel, as well as cauliflower with vadouvan, dates, preserved lemon and spiced granola. The dining room boasts stellar views of the Pacific Ocean. For an extra treat, try sitting at the chef's table.
Delilah is a throwback to the 1920s in terms of décor and atmosphere, combined with both classic and modern cuisine. Be sure to try the pita chips with white bean and avocado dip, the lemon pepper swordfish and A-Mo's funnel cake.
This restaurant caters to the vegetarian palette with dishes centered around fresh vegetables. Popular menu items include roasted Japanese sweet potato with Fuji apples and nori butter, as well as the thin-crust three-cheese bread. Even the most dedicated carnivores will be raving.
Entertainment and Culture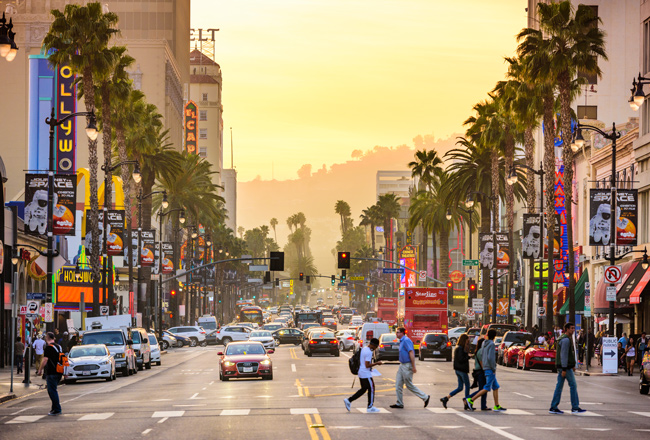 As iconic as L.A. itself, Hollywood is a must-see part of the city. Visitors enjoy taking photos of the Hollywood sign from a number of vantage points. Some choose to take a guided tour of the area. Hollywood Boulevard features the famous line of celebrity handprints. For something more unique, try the Haunted Hollywood Tour.
This art museum has a number of intriguing visiting exhibits. The permanent collection includes antiquities, drawings, manuscripts, paintings, photographs and more.
There's nothing quite like an old fashioned drive-in theatre. What's special about this drive-in is that the movie schedule is all recent releases. There is no need to choose between seeing a new release and having a unique movie-viewing experience.
The LA County Fair is entertaining and educational. Los Angeles students often visit the Jurassic Planet, Our Body, Art and Farm exhibits.
Six Flags® is fun for the whole family. Be sure to check out both the rides and special events such as Grad Nite, Easter Weekend and Fright Fest.
Recreation
Rancho Vista Golf Club is a beautiful setting offers the best in golf, plus dining and entertainment. The club even offers live music every Friday night.
Look no further for a fun day of water activities. Visitors enjoy kayaking, jet-skiing, wakeboarding and sailing. If you prefer dry-land activities, horseback riding, camping and hiking are available in the area as well.
Education
Education is a top priority in California. If you're looking to pursue a degree, you have several options in this area. Los Angeles is home to these universities:
This renowned university has excellent programs in subjects ranging from Anthropology to Civic Engagement and Human Genetics to Linguistics. The university emphasizes well-rounded education and encourages students to take classes in multiple disciplines. UCLA students often spend free time participating in one of the many clubs, athletic events or festivals.
Another highly respected university, USC offers top-notch programs in Letters, Arts and Sciences, Accounting, Architecture, Art and Design, Business, Cinematic Arts, Dance, Music, Medicine, Occupational Therapy and much more. The university has a stellar record in pioneering new programs to help the community. For example, students and faculty from the school of dentistry created a mobile dental office to provide care to more than 100 children at a church in Pasadena.
Education at Loyola Marymount University includes exposure to real-life stories, including freeing innocent people from prison through Loyola Law's Project for the Innocent and famous speakers such as Morgan Freeman. Top programs at the university include Education, Psychology, Business, Law and Public Policy.
Moving to Los Angeles
A popular relocation destination, Los Angeles has something for every homebuyer. New construction homes available in the following areas allow residents to enjoy the ease of convenience of a brand new home with quick access to amenities. As a relocator, you may want to consider these areas:
Los Angeles
The city of Los Angeles may be famous for its film and entertainment history, but there are many reasons to call LA home. Those with an active lifestyle need look no further than this booming metropolis, which is host to the LA Marathon, as well as many trails and parks. Homeowners who love to travel can get almost anywhere in the world from LAX International Airport. There are many industries in Los Angeles. Education, health care, real estate and hospitality are just a few of the types of jobs that can be found here.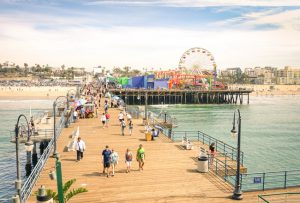 Many LA residents enjoy spending time at:
North Hills
North Hills has a diverse community, excellent library and convenient location near a number of schools, Trader Joe's and Costco. North Hills also offers magnet programs in several schools, including Sepulveda Middle School with a gifted program and Kennedy High School with an Architecture/Digital Arts program.
Palmdale
Living in this city provides a pleasing mix of activities and community. Local opportunities include community services days, community gardens and youth activities. Palmdale also has a Visitors' Guide describing unique options in the area.
Palmdale residents enjoy these local attractions:
Pomona
According to the city's website, "Pomona is a city with a bright vision for its future, and is dedicated to the quality of life for [its] diverse community." Pomona residents have easy access to parks, a community center, picnic pavilion, Fairplex and The Glass House. Top industries in Pomona include education, health care and manufacturing.
---
Search new homes in the Los Angeles area, starting from the mid $300s at RichmondAmerican.com. Our local New Home Specialists are well-versed in the area and can help point you in the right direction during your new home search. Call us today 661.524.0169.