Newly stationed at Travis Air Force Base? Whether it's your first duty station or your fiftieth, finding a great place to live in a new town can be an adventure. We spoke with Richmond American sales associate, Trisha Howe, to get a local perspective on Fairfield real estate and the opportunities there for military families. Trisha has worked with military and non-military homebuyers in the Fairfield area for over 5 years.
Richmond American Blogger: So, what are the housing options for military families near Travis AFB?
Trisha Howe, Richmond American Sales Associate: There's TLF (temporary lodging facility), which is available to people just relocating to the area, between moves, on vacation, etc. In the long term, there's base housing and renting or buying off base.
Blogger: Why would a military family choose to live off base?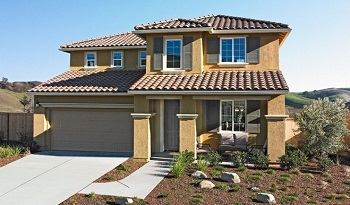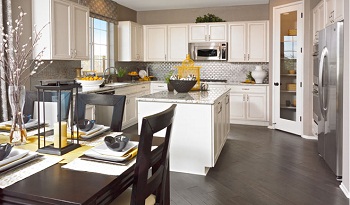 Trisha: Many of the buyers I meet enjoy the freedom that comes with homeownership. In base housing, you're not allowed to alter your yard. Officers usually have about 6 feet by 3 feet to garden, but otherwise, no touching your lawn. The houses in each neighborhood are identical, too. You have street after street of the exact same homes, elevations, and colors. You can paint your interior walls but have to paint them back before you move. You can't change much else.
When we build a home, our buyers get to choose their own floor plan and exterior, and personalize all the interior design details that make it feel like home.
Blogger: Isn't it more convenient to live on base?
Trisha: I think that depends on where you buy. We have communities within five miles of base, so residents can easily get into work, the commissary/BX, base services, etc. They're even in the same school district. But they don't have as many rules to follow as they do when living on base, and they don't have the hassle of arranging gate access for non-military guests. They can live their own life off base and don't have to feel like they're on the job 24/7.
Blogger: We've heard from the media that it can be cheaper to buy a home than rent in many markets across the U.S. right now. Is Fairfield one of those areas?
Trisha: Renting off base can be more expensive than owning, especially once you factor in the possible tax benefits of owning and the energy-saving potential of a newly constructed home. We're seeing homes go on the resale market and get multiple offers in the first 72 hours, and they're often going to cash buyers for over asking price. Many of those buyers are then using them as rentals, sometimes charging hundreds over what a mortgage payment could be.
Blogger: How affordable is it for a military family to buy a new home in Fairfield?
Trisha: Well, I can't speak for other builders, but the BAH (Basic Allowance for Housing) in the area runs around $1,700 to the mid $2,000 range—depending on rank/pay grade—and that can be enough to cover much, if not most of the monthly principal and interest payment on one of our homes. Another benefit of buying with us is the fact that we handle a lot of buyers with VA loans. So, whereas in the resale market VA buyers can be seen as a more difficult close, we welcome them and have a streamlined process for them. We also have special offers for VA buyers from time to time.
For more information about our new homes in Fairfield, call 707-416-0212 or click here to explore our communities and floor plans.
Looking for more tips and tools for military moves? Get our free Military Homebuyer Guide »