Saving money on energy bills is a high priority for many homebuyers, so it's no surprise energy efficiency appears on our list of Frequently Asked Questions.
Q: What energy-friendly features are available in Richmond American homes?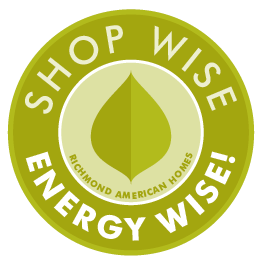 A: Depending on the market, energy-efficient features may include:
ENERGY STAR® qualified appliances, CFL lighting, windows and/or HVAC equipment
Effective insulation and interior air sealing
Efficient HVAC equipment, properly sized for the home
Low-e windows
Programmable thermostats
Other features may be available in your area. Visit a Sales Center or call a New Home Specialist at 888-500-7060 to learn more about Richmond American's Energy Wise DifferenceTM.
Q: So, how energy efficient are Richmond American Homes?
A: Home energy efficiency varies by region, community and plan. After all, a 1,500 square foot ranch home in Tucson has different heating and cooling requirements than a 4,000 square foot home in Dulles or a 2,300 square foot townhome in Baltimore. Fortunately, there's an industry-standard rating scale for home energy efficiency called the RESNET® HERS® (Home Energy Rating System) Index.
Much like a car's MPG rating, the HERS Index allows buyers to make informed decisions about a home's comparative energy efficiency. Richmond American not only provides an estimated rating for the model of home you've chosen, but also a confirmed rating for your completed new home. The confirmed HERS rating will be determined through on-site observations and tests for rated features by a third-party home energy rater.
Because HERS scores vary by market and by plan, you'll need to ask a sales associate about the projected rating of the model of home you've selected.
Still have questions or feedback? We'd love to hear from you! Contact us at questions@richmondamerican.com »
Residential Energy Services Network (RESNET) and HERS are registered trademarks of RESNET. Visit the RESNET site for more information.