Explore all that Colorado Springs has to offer
Located in a state famed 300 days of sunshine every year, Colorado Springs is located around 60 miles south of the state capital of Denver. Homeowners in this area enjoy a picturesque mountain backdrop, an abundance of recreational opportunities and family-friendly entertainment. According to the Colorado Springs tourism website, "Whether you're looking for outdoor thrills, or educational and cultural activities, things to do in Colorado Springs are limitless."
Natural Attractions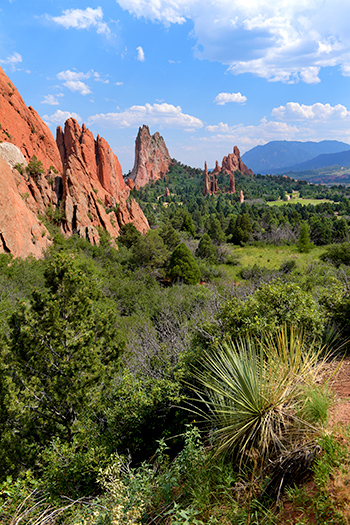 The natural beauty of this space will take your breath away. Be sure to bring your good camera to catch the gigantic sandstone rock formations with Pikes Peak in the background. Garden of the Gods also offers outdoor climbing plus Jeep & Segway Tours.
As North America's most-visited peak, the 14,114-foot-high Pikes Peak Mountain is a must-see. It is one of the few places where visitors can find snow in July. There are a number of ways to reach the mountain's summit, such as driving the winding road, hiking or the Broadmoor Pikes Peak Cog Railway.
According to the website, Seven Falls is "one of Colorado's most captivating natural wonders. This magnificent series of waterfalls is situated in a 1,250-foot-tall box canyon between the towering Pillars of Hercules." The area offers beautiful hiking and memorable views.
If you love hiking, but aren't quite ready for a fourteener, the Manitou Incline may be for you. Don't be fooled! Even though it looks like a simple stair climb, the Incline is a very challenging workout. The views at the top make the effort worthwhile.
Family-friendly Activities
This zoo is definitely worth visiting. In addition to a variety of animal exhibits, the Cheyenne Mountain Zoo offers exciting tours and special events. Don't miss the Boo at the Zoo, Electric Safari and Moonlight on the Mountain.
The high altitude makes Colorado Springs an excellent location for athletes to train. This flagship Olympic training complex hosts those training to compete in boxing, cycling, figure skating, gymnastics, pentathlon, shooting and wrestling. A visit to the Olympic Training Center usually involves a guided tour and video demonstration. 
A historic hotel that has embraced modernity, The Broadmoor is a desirable place to spend the day, experience fine dining or have a weekend getaway. The hotel has hosted an abundance of famous guests from actors to presidents. The large property offers a spa, golf, pools, tennis and so much more.
This well-known school is also an interesting place to visit. The National Historic Landmark on campus is definitely worth seeing. Be sure to bring a government-issued photo ID.
Dining
The elegant dining experience offered at the Penrose Room in the Broadmoor Hotel is perfect for special occasions. Be sure to try the artichoke & ricotta pasta, slow-cooked Pacific halibut and milk chocolate crunch bar.
Also located in the Broadmoor Hotel, this French Bistro is a rare find in Colorado. The Summit Caesar salad, angry trout and cheesecake mousse are sure to impress.
If spicy food is your taste, this breakfast and lunch spot is for you. The breakfast chimichanga and breakfast enchiladas are local favorites.
Moving to the Colorado Springs area
A popular relocation destination, Colorado Springs has something for every homebuyer. New construction homes available in Colorado Springs allow residents to enjoy the ease of convenience of a brand new home with quick access to amenities. As a relocator, you may want to consider the following community:
Panoramic mountain backdrop, easy access to major highways and the Colorado Springs Airport, and close proximity to area attractions make this community the perfect place to call home the perfect place. Explore exciting floor plans from our popular Seasons™ Collection, featuring both ranch and two-story designs, 9-foot ceilings and a variety of lifestyle features.
Paint Brush Hills
Stationed near Meridian Ranch Golf Course, this exciting community will offer a variety of floor plans and options for personalization.
---
Search new homes in the Colorado Springs area, starting from the upper $200s at RichmondAmerican.com. Our local New Home Specialists are well-versed in the area and can help point you in the right direction during your new home search. Call us today 719.570.3300.