Explore Orange County's sunshine, culture and family-friendly activities
Orange County is part of Southern California and offers a rich variety of pursuits, including big-city life, beaches and culture. VisittheOC.com describes the area: "Orange County, California envelops you in the ultimate Southern California lifestyle…casual sophistication, pristine beaches, legendary theme parks and endless options for fun in the sun or cultural exploration. With sun-soaked days and star-filled nights, here you'll be immersed in the real California dream."
Entertainment
Residents of Southern California come here to watch The Anaheim Angels play baseball. The Angels also host a 5K & Fun Run + Health Expo, Jackie Robinson Night, Angels for Animals-Adoption Awareness Night and more.
Famous performers such as Yanni and musicals including An American in Paris, Finding Neverland and Hamilton all come to this phenomenal venue. The American Ballet Theatre William J. Gillespie School is also housed in the complex.
Visitors to the Honda Center enjoy entertainment opportunities such as Stars on Ice, Hockey Games, Ariana Grande, John Mayer and much more. Be sure to see the venue's full event calendar.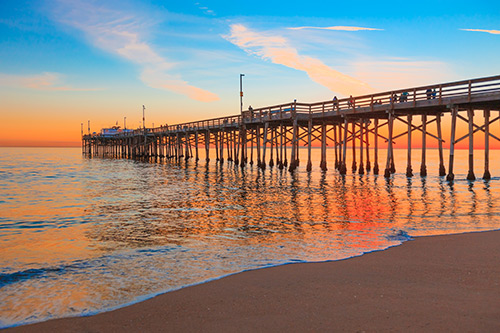 This classy shopping experience in Newport Beach offers a beautiful ocean setting as well as desirable stores such as Kate Spade, Nordstrom, Bloomingdale's and Anthropologie. When shoppers are ready to refuel, they can stop at True Food Kitchen, Fig & Olive or many other excellent restaurants.
Kid-friendly activities
A fun place to visit for the whole family, the Santa Ana Zoo is home to 50 monkeys at all times (per the founder's request). The zoo also features educational opportunities and a full event calendar including Sunset at the Zoo, National Chemistry Week and Boo at the Zoo.
Kids and parents won't want to leave this fun museum. The mission of the organization is "building better brains." Pretend City offers interactive exhibits such as an amphitheater, art studio, bank, beach, café, farm, gas station, marina, post office, grocery store and more. The café is a nut-free facility to support families with allergies.
Dining
According to the restaurant's website, they serve a mix of Mexican and American cuisines. Be sure to try the Fideo y Flor with spaghetti squash, tomatoes, sprouts and Grana Padano. If you go for brunch, don't miss the Buttermilk Pancakes with whipped butter, brown sugar, apples and thyme maple syrup.
According to the SeaSalt Woodfire Grill's website, excellent dishes are served at this "grill where the wood fires of Santa Maria meet the fire pits of Huntington Beach." Give the Cowboy Caviar with Chips, Cast-iron Sweet Potatoes, Spencer Steak or Scorched S'mores Brownie a try.
Education
Higher education is a priority in California. If you're looking to pursue a degree, you have several options in this area. The following universities are located in the Orange County area:
Chapman is a well-regarded university with academic programs in a wide range of subjects. There is a College of Arts, Humanities and Social Sciences, School of Business & Economics, School of Communication, College of Education Studies, College of Film and Media Arts, College of Health and Behavioral Sciences, School of Law, College of Performing Arts, School of Pharmacy and College of Science & Technology. The institution also offers bridge programs to graduate in 5 years with an undergraduate degree and master's degree.
This university offers degrees in the fields of art, business and economics, communications, education, engineering and computer science, health and human development, humanities and social sciences, and natural sciences and mathematics. Popular extracurricular activities at the school include clubs, recreation, athletics and leadership opportunities.
University of California, Irvine offers top academic programs in art, biological sciences, business, education, engineering, humanities, information and computer science, interdisciplinary studies, law, medicine, nursing, pharmaceutical sciences, physical sciences, public health, social ecology and social sciences. Popular campus activities include attending performances and exhibitions, athletics and campus events.
Moving to Orange County
A popular relocation destination, Orange County has something for every homebuyer. New construction homes available in the following areas allow residents to enjoy the ease of convenience of a brand new home. Proximity to Los Angeles and its amenities make these excellent areas for relocators to consider:
Costa Mesa is a great place to live and work. Top industries in the area include pharmaceuticals, aerospace, education and health care. The city has a number of annual events such as a community run, concerts in the park, fish fry, Relay for Life and Snoopy House Holiday Display. Appealing Newport Beach is only seven minutes away. Here, you can find excellent shopping, beautiful scenery and great restaurants.
Irvine is a popular place to live for many reasons such as family-friendly living and access to amenities. University of California, Irvine and Hoag Hospital are large employers in the area.
Shipley Nature Center and the many beaches in Irvine provide excellent places to spend free time. Stellar shopping is found at Fashion Island and South Coast Plaza. Irvine residents often visit the Great Park Farmers Market and Balboa Village on weekends.
Search new homes in Orange County, starting from the $700s at RichmondAmerican.com. Our local New Home Specialists are well-versed in the area and can help point you in the right direction during your new home search. Call us today 949.467.2665.