When someone is buying or selling a home, there is always the question: "What really differentiates one home from the next?"
Sometimes, homebuilders and homeowners really miss the importance of lighting.
Any of the finished products within the home, as well as on the home's exterior, are really what makes one home stand out from another. I always like to say, "lighting is like the jewelry of the home." Meaning, it's possible to build a good home and then significantly change the perceived value through trim upgrades, carpentry, plumbing fixtures and appliances. This, of course, includes lighting, too.
In other words, anything the buyer is going to see will make a difference.
Think about the importance of "curb appeal," when the buyer is looking at the exterior and architecture of a home. If the home is well lit and features the latest in outdoor lanterns and landscape lighting, that can give the home much more perceived value than if it was lit with outdated or poor performing fixtures.
So what can you do to make your home stand out? Keep these lighting tips in mind:
Create a welcoming atmosphere through lighting – A well-lit space invites guests in your home, making them feel more comfortable. Alternatively, individuals may feel unsafe or unsettled if areas of your home are dark or poorly lit.
Coordinate! – Lighting fixtures should complement and coordinate with finished products, such as faucet fixtures and door hardware. For example, if you have nickel faucet fixtures and light kits, stay away from black or bronze finishes for lighting fixtures within the same room.
Stay current with the latest trends – Think about the last time you entered a home that seemed a bit "dated." Chandeliers, wall sconces and exterior fixtures that are on trend deliver a higher perceived value to those who are visiting your home.
It's important to stay on trend when selecting the right lighting for your homes. Progress Lighting understands the marketplace and offers lighting solutions that are going to complement the latest home furnishings.
What's on trend now
We're seeing that minimalistic designs with clean and simple features are very popular.
Antique Bronze and Brushed Nickel are some of our most popular selling finishes.
Also, consumers are looking for fixtures with textured glass (think seeded glass) to hide CFL lamps.
A few of Progress Lighting's most popular builder collections include:
Joy – The fashion-forward, voluminous curves create a soft and stylish profile.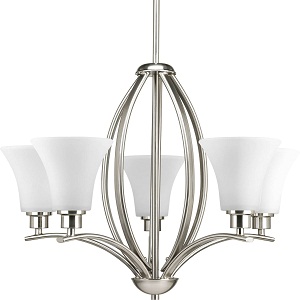 Bravo – A current, truly transitional style.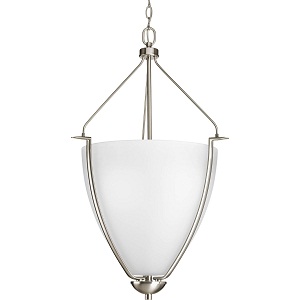 Heart – Fixtures are curvaceous and flowing.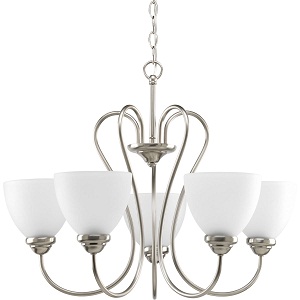 Visit www.progresslighting.com for more information. Also on Facebook, Pinterest, Twitter and Houzz.