You've got all your ducks in a row; your finances are healthy, circumstances are right and at last you're ready to buy a new home and leave the rental market for good. Even though it may have taken years of careful saving and patient planning to get to this point, there are still a number of decisions that remain before you arrive, new key in hand, at the threshold to your new home.
But fear not—the homebuying process can be great fun and incredibly rewarding! And with our rough outline below on how to buy a new home (and a wealth of additional homebuying resources scattered throughout our blog), you'll find a trusty companion to help guide you along the way.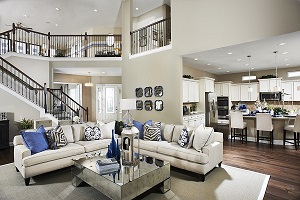 LOCATION
The first home you buy is presumably going to be more permanent than your last rental, which is incentive for you to think extra carefully about where you'd like to buy a new home before diving headlong into the real estate market. Just a few factors you might consider when thinking about location:
What's your ideal commute time?
Do you prefer the suburbs, the city or a rural setting?
Is there a particular school district you'd like to live in?
How walkable do you want your new neighborhood to be?
What amenities would you like nearby? (shopping, dining, outdoor recreation, etc.)
Are some areas you'd consider living in safer than others?
How close would you like to live to friends and family?
It's important to carefully consider such factors for the long-term and not just the present. What school district you live in, for example, may not be relevant to your life today, but it very well could be if kids arrive on the scene in the next few years. Thanks to modern technology, you might have great success doing much of your location research online.
CHOOSING A HOMEBUILDER
You've picked your ideal location, and you've also wisely decided to buy a new home over a used one, so you know you'll enjoy brand-new amenities, a warranty plan and greater peace of mind. But that still leaves you with the task of narrowing down which builder to go with. Consider a twofold approach to your decision:
First: You'll have to find a builder that you know is trustworthy, a company with a good reputation and a proven history of quality. For help with how to stack up different companies, reference our article on choosing the best homebuilder.
Second: Just because you trust a particular builder doesn't mean you'll be happy with what they're offering, so you'll also want to consider which builder best meets your individual preferences. Consider things like who offers the best floor plans for your lifestyle, the full breadth of design options you're looking for and the timeframe you're looking to move in. For help breaking down what builder best suits you personally, reference our article on finding your best homebuilder match. 
ESTABLISHING A MOVING TIMELINE
How quickly you'd like to find and move into your new home may further narrow your options, so it's best to think about this early on. If you're in no big hurry, you'll enjoy a wider variety of homes to choose from. But if, say, you'd like to move within the next six months, you might want to focus your search on quick move-in homes offered by your builder of choice.
Also known as spec or inventory homes, quick move-ins are homes that already have construction underway so as to facilitate a faster closing date. As a result, you may not have as many design options as you would with a home you build from the ground up—sort of like the difference between buying a car off the lot versus ordering it custom from the factory.
While considering your moving timeline, it helps to have an open mind about the completion date, as any number of variables could shift the actual date of your home closing. Things like building permit or weather delays could even occur toward the later stages of your contract, so keeping a flexible mindset can go a long way toward a happy homebuying experience.
FINDING A REAL ESTATE AGENT
Now that you've done a lot of the upfront research to narrow down what you're looking for, it's probably a good time to search out an agent to take your home search to the next level. All those rigorous research skills you've been honing so far will come in just as handy at this stage, as you'll want to be very picky about which agent you trust to help you transition from window shopper to homebuyer.
For tips on making your selection, reference our article on things to look for in a real estate agent.
______________________
For more tips on how to buy a new home, check out our FREE homebuyer guides.