Does the idea of living closer to the city appeal to you? What about the idea of no yard, or maybe a smaller one requiring less maintenance? If so, a townhome might be a good option for your next home. But what do you look for when buying a townhome? Read on for our quick primer on townhome basics, floor plans and more.
TOWNHOME BASICS
Townhomes are attached dwellings that share at least one wall with another home, typically near shops and businesses in urban cores, and often with minimal yard space and attractive community amenities. Some areas also offer the townhome experience in detached single-family dwellings—like our Cityscape Collection in Colorado.
FLOOR PLANS
Townhomes come in a variety of ranch and multi-story layouts. And like single-family homes, they may or may not have basements—mostly depending upon region. At Richmond American, we build townhomes in a multi-story layout, with a mix of three- and four-story floor plans.
THREE-STORY TOWNHOME EXAMPLE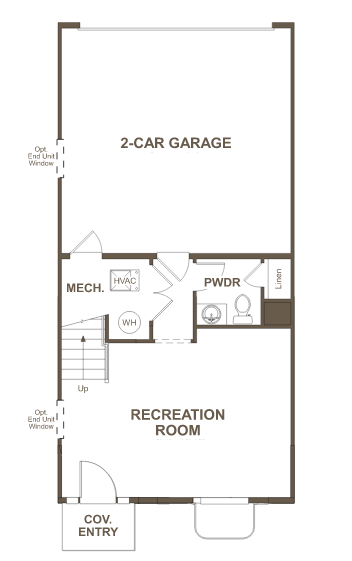 Lower Floor
On the lower floor, you'll find entry points via the front door and garage (alley-facing in this example). Typically, the lower floor will also have a general purpose or recreation room, along with a bathroom.
The main floor is often where you'll find most of the common living space—pictured to the left with a great room, kitchen and dining room. Some Richmond American townhomes (as well as detached, townhome-style designs) may feature options on items such as a deck, study or additional bedroom.
The upper floor will include most, if not all, of the bedrooms—including the master suite. This part of the townhome will likely also include a laundry area, for convenient bedroom proximity.
WHERE TO FIND TOWNHOME DESIGNS
Richmond American offers several communities with townhome-style designs across the nation. Check out the following list to see what's currently available.
CALIFORNIA
Costa Mesa
Brickyard East and West »
Maple Crossing »
COLORADO
Littleton
Cityscapes at Littleton Village »
MARYLAND
Baltimore
Federal Place »
Hampden Square »
Catonsville
Bristol Green »
Elkridge
Elkridge Crossing »
Glen Burnie
Tanyard Cove Townes »
Millersville
Villaggio Enclave »
VIRGINIA
Ashburn
Ashburn Knolls »
Gainesville
Madison Crescent »
Haymarket
The Villages of Piedmont
at Leopold's Preserve »
---
Good luck on your home search!
Learn more about different home designs with our guide on How to Choose the Right Floor Plan for Your Lifestyle.