There are many ways to save money on homeowners insurance: bundling multiple policies, buying a new home instead of resale, increasing your deductible, maintaining good credit—and that's just naming a few. But, did you know that there are also some simple things you can do around the house to protect your pocketbook, as well as your property?
The list below is just a starting point. Check with your insurance agent to see which items would make a difference in your individual situation. He or she may even have additional discounts to suggest.
Home Security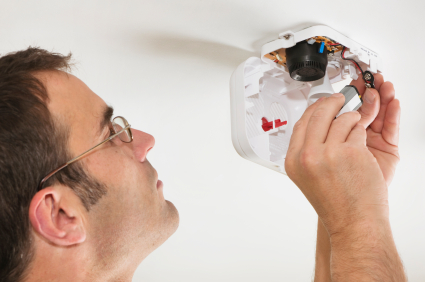 Install smoke detectors throughout each level of the home. Visit the U.S. Fire Administration's website for recommendations on how many detectors you should install, where they should be located, how often you should test them and what type of smoke detector is right for your needs. If you choose to invest in a monitored fire detection system or sprinklers, ask your insurance agent for recommendations before you buy. Some systems may earn you a big discount on your premiums, while others may not qualify at all.
Buy a fire extinguisher. The National Fire Protection Association recommends keeping one near an exit on each floor, so you can escape quickly in the event that a fire can't be controlled. View other recommendations here »
Install deadbolt locks on exterior doors. Before you choose a lock, you may want to research your options. There are a variety of lock features on the market now that weren't widely available even a few years ago, including re-key technology, anti-bump protection, keyless code entry and even web-enabled locks that you can monitor and access with a compatible smartphone.
Install a burglar alarm. In a recent study, researchers found that 83% of burglars polled would check to see if their target had a security alarm before attempting a break-in. 60% would choose a different target entirely if they saw evidence of an alarm on the premises. In addition to discouraging burglars, an alarm could limit the amount of time a criminal has to grab your valuables and escape. Standalone security alarms are available, but a monitored security system that automatically contacts the police department would probably get you the largest insurance discount (5% or more, depending on your provider and circumstances).
Limiting Liability
Fence, cover and fill your swimming pool or hot tub. For some insurance companies, an empty pool may make your home uninsurable. Filling or covering it should help prevent both red flags at your insurance office and the possibility of a nasty fall. A filled pool should be fenced to prevent children from falling in or swimming unattended.
Avoid risky dog breeds. Many pet owners wouldn't trade their furry friends for an insurance discount, but the fact remains that owning certain dog breeds can cost you. If you're considering getting a new dog, check with your insurance agent to see if your policy will be affected. Not only could your rates go up, but you may even lose coverage entirely.
Eliminate slip and trip hazards. This one may not earn you a discount, but it could help protect you from claims that could cause your premiums to rise. Fixing loose paver stones or adding a handrail is a small price to pay to avoid a potential lawsuit.
Reconsider that trampoline. Risky equipment may increase your premiums, or be excluded from coverage.
Disaster-proofing
Evaluate your home's storm protection. If you own an older home, your roof, windows and other structural elements may not be as wind- and hail-resistant as those found in modern construction. Unless your roof has been recently replaced or well maintained, you could also be at risk for leaks. Ask your insurance agent whether improvements like storm shutters or a new roof will make a difference in your premiums.
Evaluate your heating, plumbing and electrical systems. Older equipment, pipes or wiring may make an insurance provider wary. If your electrical and/or plumbing systems haven't been updated in the last 25 years, or if they've already caused problems, you may want to consider replacing them now. Discuss any home improvement projects you're planning with your insurance agent; he or she may have ideas for maximizing your chances of a discount.
Interested in shopping around for a good homeowners insurance rate? Our affiliate home insurance company, American Home Insurance Agency, Inc. (AHI), can simplify that process for you. They gather quotes from a wide variety of insurance carriers and can help you find the best fit for your needs and budget. Learn more »
Other resources:
12 Ways to Lower Your Homeowners Insurance Costs
Secrets to Lower Home Insurance Premiums