Summer is winding down and school bells will soon be ringing. That means it's time, once again, to brainstorm delicious, nutritious lunch ideas for your star student. Check out these simple, satisfying suggestions to beat lunch box boredom and promote productivity throughout the afternoon.
Think beyond the sandwich. If your son or daughter loves PB&J or turkey on rye, more power to you! But if your kindergartner-turned-culinary critic shudders at the idea of yet another sandwich, check out these exciting alternatives, guaranteed to please even the pickiest of palates: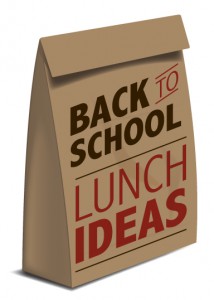 Choose sides that shine. Some days, it takes a little extra fuel to make it to the dismissal bell. That's where sides (a.k.a. snacks) come in. A granola bar will power up your kiddo in a pinch, but the following fun and filling foods are sure to liven up your child's mid-day meal:
End on a sweet note. For many kids (and grown-ups!), dessert is the most anticipated part of the meal. The following treats are sure to satisfy your child's sweet tooth:
Here are some additional ways to ensure your son or daughter won't be singing the lunch box blues this school year:
Keep following our blog for more delicious recipes and homeowner resources.