Homeowners in Jacksonville enjoy a number of luxury amenities with even more on the horizon. Many unique restaurant and shopping options are coming to the St. Johns Town Center this year.
Dining
Current Favorites:
Moxie Kitchen + Cocktails: This locally owned and operated restaurant features local, sustainable ingredients. They even used recycled and reclaimed content for much of the building process. Don't forget to try the cheddar biscuit tots and handmade gnocchi.
The Loop: The Loop boasts quick, high-quality menu options. This restaurant can only be found in Florida and North Carolina. It's a family-friendly spot with a great history. The pesto-based BBQ Chicken pizza won't disappoint.
Sweet by Holly: If you have a sweet tooth, you won't want to miss this cupcake shop with an abundance of award-winning flavors. Be sure to try the coffee, dirt (chocolate cake, chocolate dulce pudding, chocolate butter cream, Oreo dust and gummy worms) and high hat (dark chocolate cake, chocolate ganache and vanilla buttercream) mini cupcakes.
Coming Soon:
Piada: Brand new to the Florida market, Piada serves authentic Italian street food crafted with each diner in mind. Be sure to try the Chef's Favorite Piada (think thin crust, grilled calzone) with spicy diavolo sauce, romaine, sweet & spicy peppers, mozzarella and creamy parmesan. Add calamari for a gourmet twist.
Fogo De Chao: New to the area, this Brazilian Steakhouse is bound to become a favorite. Give the butternut squash & sweet potato soup a try. If you're a fan of beef ribs, try Fogo De Chao's rare take on the dish. The ribs are rubbed with rock salt for a tasty crust and grilled for hours.
Firebirds Wood Fired Grill: Also new to the area, Firebirds is a popular restaurant in other parts of the country. Be sure to give the lobster spinach queso and pecan encrusted trout a try.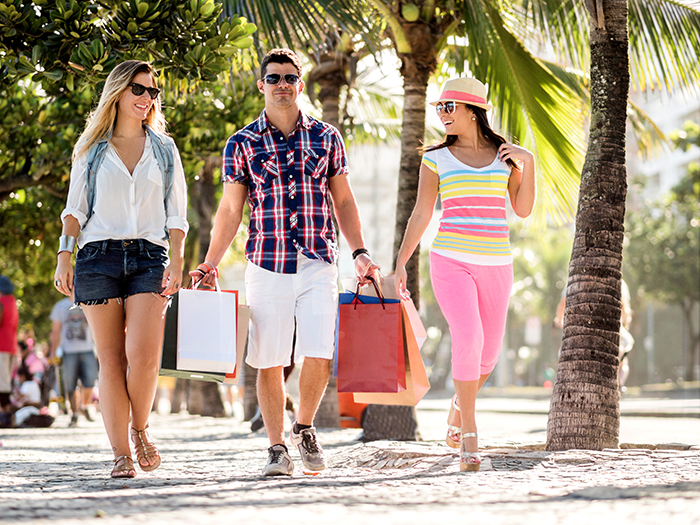 Shopping
Current Favorites:
Ballard Designs: This home furnishings store is only in select locations throughout the country. For a unique take on design, enjoy perusing their furniture, rugs, pillows and much more.
Bunulu: This store provides a shopping experience found only in Florida. Bunulu sells products to support an "active coastal lifestyle".
Levy Jewelers: This family-owned jewelry store offers high-quality jewelry and personalized service with specialists in gemology, diamonds and watchmaking. The store is a great place to purchase a gift for a special occasion or a special someone!
Natural Life: This flagship store is "a destination where people come to share stories, enjoy the little things and discover…treasures for themselves and loved ones".  Shop here for specialized clothes, accessories, jewelry and gifts. They even have a section of car accessories including air fresheners, car charms, car coasters, keychains, steering wheel covers and air fresheners. Natural Life also features gifts for sisters, aunts, hostesses, pet lovers, daughters, moms and teachers.
Also see this complete list of stores at St Johns Town Center.
Coming Soon:
Aldi: This grocery offers high-quality ALDI products and an intuitive shopping experience. They keep prices low by having you bring your own bag, being open only during popular shopping hours and have an interesting way to make sure your shopping cart doesn't stay in the parking lot. Shoppers put a quarter in the cart and get their quarter back by returning the cart.
2nd & Charles: This is the spot for buying and selling books, games and devices. Ready to trade in your old iPod? Hoping for an affordable ereader? This store is likely to be a new hotspot for book and game enthusiasts.
Learn more about the upcoming additions to the St. Johns Town Center in 2017.
If you're ready to take advantage of the incredible lifestyle in Jacksonville, check out the versatile options in The Woodlands, Riverton Estates and Sandpiper Cove communities.