The New Year is a time for family, friends and food. But it's also a time for resolutions, many of which revolve around healthy eating and weight loss. Whether you're planning a grand gathering or an intimate dinner party this New Year's Eve, fresh flavorful ingredients prepared in a healthful manner (i.e., hello, lean proteins and so long, deep fryer!) can help you and your guests emerge with your resolve—and your waistlines—intact.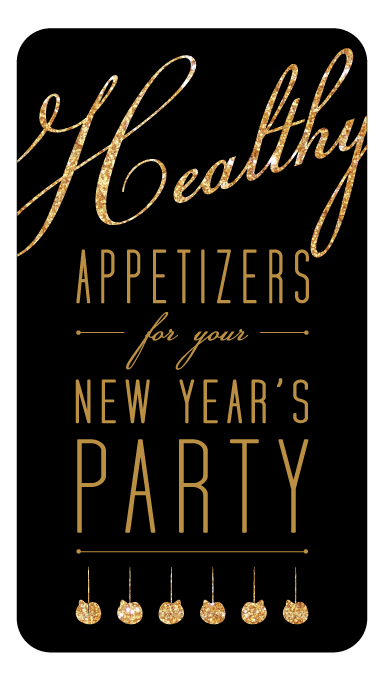 Ring in the New Year and charm your friends and family with seven simple starters that are delicious and nutritious.
Two-Tomato Bruschetta from Better Homes and Gardens
Fresh roma and dried tomatoes mingle with basil, feta cheese and a crispy, crusty whole grain baguette to create the perfect bite for your New Year's celebration. Your guests will enjoy fantastic flavor and a satisfying crunch for less than 200 calories per serving.
Baked Parmesan Garlic Chicken Wings from Steamy Kitchen
Greasy, fried chicken wings are so 2013! Minced garlic, ground cumin, dried rosemary and delicious Dijon mustard converge to create these tasty, tangy, baked-not-fried wings that your guests will rave about well into the new year.
Spinach and Goat Cheese Tartlets from Food Network
These tasty tartlets are beautiful to look at and deceptively simple to prepare. Friends and family won't be able to resist the allure of the nutmeg, garlic, goat cheese and chopped spinach. You may want to double the recipe because at a mere 54 calories each, these healthy appetizers will disappear well before midnight.
Muffin-Tin Crab Cakes from EatingWell.com
Crab cakes are a guaranteed crowd-pleaser, and this stunning starter will not disappoint. Baking eliminates excess fat and calories, while allowing the sweet crab flavor to shine through. Prepare to impress your guests with delicious cakes that are uniform in shape and size, thanks to clever use of the muffin tin. Hint: use a mini tin to achieve a more delicate bite.
Greek Salad Bites from Recipe Girl
Opa! This unique spin on a classic Greek salad is sure to turn heads at your New Year's Eve gathering. Crispy English cucumber slices are the perfect vessel for a mouthwatering medley of fresh basil, parsley, garlic, feta cheese, sundried tomatoes and Kalamata olives.
Honey-Mustard Turkey Meatballs from Taste of Home
These savory, satisfying meatballs with honey mustard dipping sauce prove that you don't have to sacrifice flavor for health. Lean ground turkey replaces traditional beef, and chopped onion, ground ginger and sweet pineapple juice join forces to form a ball that's worthy of your New Year's Ball.
Spicy Black Bean Hummus from MyRecipes
Spice things up for 2014 with this creamy, dreamy, protein-packed hummus. Your guests will be wowed by the magical combination of ground cumin, fresh garlic, pepper, tahini and black beans. Serve with carrot and celery sticks or baked pita chips.
Have a happy, healthy, tasty New Year! Keep following our blog for more delicious recipes and homeowner resources.