[metaslider id=16158 cssclass=""]
Explore D.C.'s superb mix of culture, jobs and city life
Washington, D.C. is a great place to visit, live and work. The variety of job opportunities makes D.C. an appealing place to pursue a career. D.C. residents also enjoy a wide range of ways to spend their free time. According to the Washington DC Official Visitors Guide: "Celebrated restaurants complement vibrant neighborhoods, world-class museums, an array of outdoor activities and signature events like the National Cherry Blossom Festival."
City attractions
This is a must-see D.C. event. The festival takes place from mid-March to mid-April annually. In addition to viewing the Cherry Blossoms, visitors can enjoy a parade, fireworks and grand ball.
While there is no shortage of shopping in the D.C. area, the National Mall offers a different type of experience. A visit to the national monuments and memorials at the National Mall is an important and enjoyable activity. D.C. residents have access to events such as the Independence Day Celebration on the National Mall as well.
Dining
Whether you are searching for upscale establishment run by a gourmet chef, or casual fare locals swear by, Washington, D.C. offers the best in gourmet cuisine. Below are just a few eateries both relocators and area natives will want to explore.
According to the restaurant's website, Rasika offers two Washington, D.C. locations to enjoy modern Indian cuisine. The Tandoori lamb chops, mango shrimp and avocado banana chaat are definitely worth trying.
For something different, try this restaurant specializing in Balkan cuisine. Don't miss the smoked salmon spread and almond-crusted chicken.
Commissary prides itself on a variety of delicious dining options with honest pricing. Be sure to try the truffled popcorn and the Thai mango & papaya salad and cranberry-walnut chicken salad BLT pita.
Museums
Museums are abundant in D.C. Many offer free admission and special events.
The Smithsonian Air and Space Museum is a local and tourist favorite. Visitors can enjoy the captivating permanent collection and a number of fascinating temporary exhibits.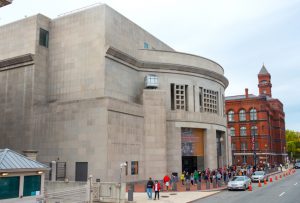 This museum allows visitors to learn about tragedy in a meaningful way. There is even a children's exhibit that educates in an age-appropriate manner. Museum visitors also have the opportunity to learn about helping to prevent such atrocities in the future.
The National Gallery of Art features many different artistic mediums, including drawings, photographs, paintings and sculptures. The museum offers a number of events such as film programs, concerts, jazz programs, gallery talks, lectures, guided tours, family activities and children and teen films.
Moving to the D.C. area
A popular relocation destination, the cities and suburbs surrounding Washington, D.C. have something for every homebuyer. Explore new construction homes and find the community that best fits your lifestyle, with quick access to D.C. amenities. As a relocator, you may want to consider the following locations for your next new home:
New Market
New Market has many farms and parks, as well as the New Market Historic District. New Market residents also enjoy access to Holly Hills Country Club and Linganore Vineyard. New Market hosts annual spring and winter festivals. The town has a rich history dating back to the 1790s and has a popular school system.
New Market is in an excellent location directly off of I-70. It takes around 30 minutes to get to Baltimore and approximately 45 minutes to get to Washington, D.C. Downtown Frederick is only 10 minutes away. Adventure Park USA is a fun theme park located just 5 minutes away.
Silver Spring
Silver Spring is a bustling suburb only 20 minutes from Washington, D.C. Residents enjoy access to Rock Creek Park with beautiful hiking trails. Nearby Silgo Creek Park also has trails, tennis courts and playgrounds. Homeowners in Silver Spring can also take advantage of several golf courses.
Silver Spring residents enjoy all the amenities that D.C has to offer, as well as the pocket parks that surround the area. Silver Spring also has dining experiences from around the world, including everything from Moroccan to Thai restaurants.
Entertainment is plentiful in downtown Silver Spring with many events throughout the year. Highlights include Silverdocs documentary and film festival, Thanksgiving Day Parade and Silver Spring Jazz Festival.
Silver Spring is conveniently located close to the ICC and Route 29. The city is an excellent home for commuters to both D.C. and Baltimore. Families with school-aged children especially appreciate the popular public schools in the area.
---
Search new homes in the DC area, starting from the low $400s at RichmondAmerican.com. Our local New Home Specialists are well-versed in the area and can help point you in the right direction during your new home search. Call us today at 410.312.2828.