So Father's Day is just around the corner and you don't have a gift? No need to panic. Whether you have a few days or just a few hours remaining before the moment of truth, our list of last-minute gift ideas for Dad should have you covered.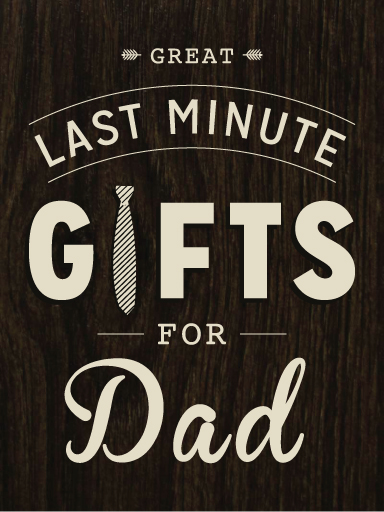 A concert or sporting event
It only takes a few minutes to check the schedule for your dad's favorite baseball team or touring dates for his favorite band and click to buy tickets. Then simply print out the confirmation page, slip it in a nice Father's Day card and enjoy watching his eyes light up when he opens it. Don't forget to buy two tickets so that you can accompany him.
A season pass or subscription
For a quick gift that keeps on giving, buy your dad a season pass to something like the local museum or nearby national park. If Dad's more of a homebody, consider buying a subscription to his favorite magazine or a movie streaming service like Netflix, Hulu Plus or Amazon Prime Instant Video.
A special toast
Does your dad have a pricey bottle of something that he loves but won't buy for himself? Pick that up. And if he'd enjoy it, throw in a premium celebratory cigar. But don't just gift it to him. Stick around and properly toast the man, then settle into some comfortable lawn chairs and strike up an engaging conversation, like why he's wrong that the Stones were better than the Beatles. If you don't like what he's having, bring something that you do like so that you have something to clink glasses with.
Gift card
We all love a gift card to our favorite store or restaurant. This is even something you can pick up on the way over to Dad's house on Father's Day. Your local grocery store, Target or Walmart will usually have a gift card rack filled with plenty of options for you to choose from. If you aren't able to see your dad in person, many stores offer the option of eGift cards.
Quality time
If it's really late in the game and it looks like you're going to show up empty-handed, throw Dad in the car for the ever-reliable dinner and a movie. Or pick a spot to visit that has sentimental value—that lake you and he once hiked to, the arcade where you used to wage epic battles of air hockey, the ice cream shop where he used to take you for important heart-to-heart conversations. Remember, it doesn't have to be expensive or fancy as long as it's heartfelt, and sometimes the best Father's Day gifts come in the form of quality time with a son or daughter.
Have a fantastic Father's Day experience! Find more timely holiday and entertaining ideas on this blog or on our Lifestyle & Entertaining board on Pinterest.