Discover the outdoor treasures and quiet lifestyle of Western Maryland
Many times, homebuyers looking for a reprieve from the fast-paced setting of the Baltimore-Washington Metro area find themselves seeking a home in Western Maryland. Here, the land is a little more mountainous, the setting a little less congested, and there are more opportunities to enjoy the great outdoors. As a homebuilder, we saw Western Maryland as an opportunity to establish the American Dream in an area that provides a different lifestyle. Explore all the advantages of calling Western Maryland home!
Outdoor recreation
Because of its mountain location, recreation is part of the lifestyle in Western Maryland. Check out all the attractions you will enjoy when you buy a new home in this charming region.
Wisp Ski Resort
One of the biggest perks to life in the higher altitudes of Western Maryland is quick access to powder-covered mountains. Wisp Ski Resort takes it one step further by offering activities all year round. Enjoy skiing, tubing, golf, snowmobiling, Segway tours, whitewater rafting and a 3,500-foot downhill mountain coaster.
Deep Creek Lake
Nestled in Garrett County, Deep Creek Lake is the largest lake in Western Maryland, making it a popular destination for vacationers and residents alike. Activities include tubing, waterskiing, wakeboarding, kayaking and canoeing. In the winter, snowmobiling is popular as well. For those looking to extend their stay, Deep Creek Lake State Park offers hiking, biking, fishing, camping and more.
Swallow Falls State Park
Also in Garrett County, Swallow Falls State Park offers access to Muddy Creek Falls, a spectacular 53-foot waterfall. Hikers take a 1.25-mile trail to reach the falls and its beautiful scenery.
Rocky Gap State Park
Located in Allegany County, Rocky Gap State Park includes a range of activities and sights to explore. Don't miss the rugged mountains, 243-acre lake, mile-long gorge and hemlock forest. Several pavilions are open to the public and an amphitheater is available for weddings and special events. Many travelers visiting the area also make a point to visit nearby Rocky Gap Casino Resort.
The Great Allegheny Passage
This 150-mile trail stretching from Cumberland to Pittsburgh along the Eastern Continental Divide is great for biking and hiking. There are several campgrounds if you want to make the trek a vacation.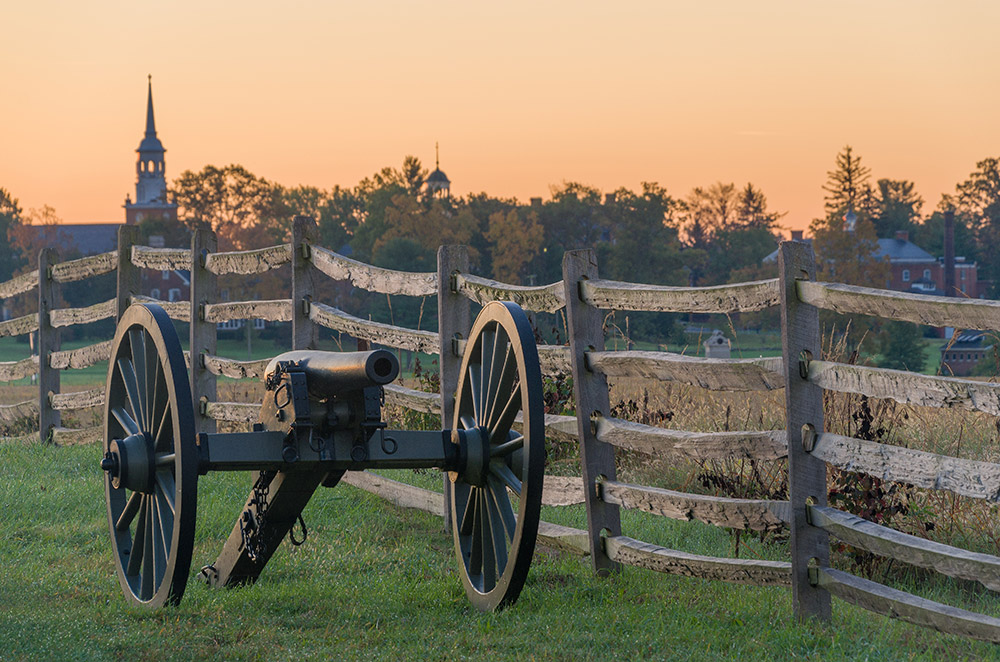 History & culture
While more urban areas are known for cultural attractions, Western Maryland does not lack in this area. From art to wine, there are many culture draws that appeal to visitors and residents alike.
Antietam National Battlefield
The Battle of Antietam claimed the lives of over 20,000 Civil War soldiers, ranking among the most tragic one-day battles in American history. On your visit to this historic battlefield, you can explore museum exhibits, take a self-guided tour and learn more about the event from local park rangers.
Spruce Forest Artisan Village
Situated in the heart of the Allegheny region, the Spruce Forest Artisan Village is a place where artists showcase and sell their work and where visitors can enjoy meeting the artisans inside their studios. Welcoming more than 60,000 visitors each year, the village preserves the heritage of the region.
Antietam Highlands Wine Trail
Western Maryland has a range of wineries open to the public. The Maryland Wineries Association recommends taking a self-guided tour, spending a day or weekend visiting area wineries for tastings and tours. To plan your visit, start here.
Autumn Glory Festival
Held every year, the Autumn Glory Festival was started by a group of turkey growers promoting their turkey dinners. Through the years, it evolved into a full-out festival, complete with parade, concerts, art exhibits, craft shows and more. Featured on the Travel Channel!
Moving to Western Maryland
A departure from the hustle and bustle of city life, Western Maryland is a breath of fresh air. If you're considering making a move to this beautiful region, we hope you consider one of the following areas.
Frederick County
Frederick County is located just east of the three counties that best define Western Maryland. Residents enjoy the peaceful lifestyle of the western region, while still being within commuting distance to the areas surrounding Baltimore and Washington, D.C. Here are some other things that attract homebuyers to Frederick County:
Ready to start your new home search? Search communities in Frederick County
Washington County
Recognized as part of Appalachia, Washington County is an area rich in history. Richmond American Homes will be building in this area soon. Check back!