Layers of texture within a space create a warm and welcoming environment. When designing a home, tile can be an easy and functional way to incorporate both visual and tactile dimension into a room. We hope these four examples inspire you to rethink how tile can add layers of texture within your Richmond American home.
Tile and stone offer different shapes, patterns and sizes to choose from.
Tile invites homeowners to think outside the box when it comes to shapes and patterns, without sacrificing durability and ease of maintenance. It can be installed over multiple linear surfaces, from floors and walls to kitchen countertops and islands, so the potential for creating interesting layers of texture with low-maintenance tile is greatly expanded.
The sheer volume of patterns and shapes that tile offers means that its design potential is almost limitless. From classic squares and rectangles to chevrons, herringbones, hexagons, penny mosaics and the now trending expansive tile panels that mimic the look of solid stone, tile can reflect your favorite shape, pattern and texture on almost any surface.
Tile can bring multiple layers of texture through pattern and color.
Even minimal use of tile in a space can bring dramatic layers of texture, depending upon the series you choose. Here, the Velocity series from Emser Tile incorporates various tones of wood-look texture into a striking chevron pattern. The bold pattern choice, even in a neutral shade, brings layers of color and visual intrigue to the living space. Or, you can enhance the visual texture even more by choosing a bold color for added contrast.
Pairing multiple tile patterns heightens the layers of texture within a home, and the design intrigue.
Take this owner's bath, for example. Tile can be found here on the floor and within the shower. The Choice collection from Emser Tile – a classic beveled subway tile – brings dimension to the shower, even while using neutral shades. Similarly, Emser's Explorer series artfully incorporates the look of reclaimed wood and stone, providing an urban feel with layers of movement and dimension to the flooring.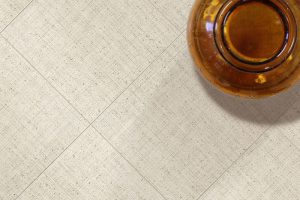 Texture within tile can be visual and tactile.
The face texture of tile is no longer limited to the smooth finish for which classic tile is known. In fact, etched detailing is an integral design element in today's tile, making it possible to achieve realistic wood and textile looks, such as linens, tweeds and denim. Here, Canvas in Angora from Emser Tile brings refined texture, which is achieved through the pairing of high-definition printing during the manufacturing process and fine etching to more closely mirror the elegant texture of textiles.
How will you take advantage of the design and functional benefits of tile to create a welcoming home?