In order to appreciate life in your new home, you may need to get away on occasion. While traveling can be a lot of fun, planning for a trip can be stressful. These packing guidelines can help ease the stress of deciding what to bring with you on vacation.
Make a List
Staring into your closet may make you feel overwhelmed. Instead of starting with an open suitcase, begin with a pen and paper. Write down everything you will need to use daily. A toothbrush, toothpaste and hairbrush are key items to include. It can also be helpful to mentally go through your daily routine and evaluate which items can be packed right away and which must wait until right before the suitcase zips. Our packing checklist is a useful resource as well: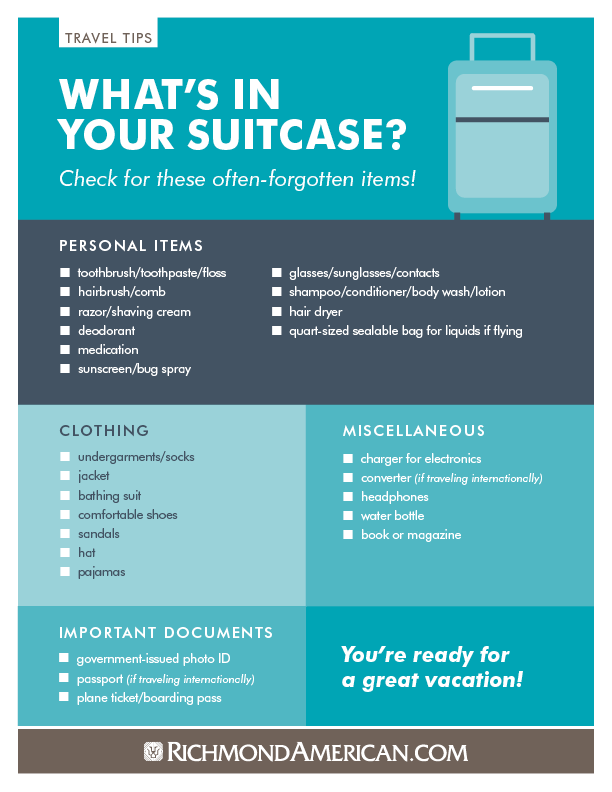 Plan Ahead
Deciding what to bring on the morning of a trip works for some, but this method may make it difficult to purchase special items such as travel-sized shampoo or sealable quart-sized bags.
Evaluate
What do you really need to bring with you? A heavy suitcase can weigh down any trip. Are you staying in a hotel that will provide toiletries? Will you be in an area where you can purchase any forgotten items? Is the convenience of traveling with a carry-on worth leaving that extra pair of shoes at home?
Anticipate
Part of the excitement of traveling is learning about a new place. Spontaneity is definitely valuable on vacation, but it is also helpful to know what your options will be. It's a good idea to pick two or three important places to visit while you are out of town. That way, you won't look back and wonder if you missed out.
Traveling is an excellent way to spend free time. If you plan ahead, you can ease right into a vacation mindset!