Thinking about selling your home? Get an update on the 2023 housing market! Here's what you need to know.
Demand and pricing
Good news! Since the pressures of the pandemic have begun to ease, industry sources indicate there are many areas across the country where both the demand and pricing for homes are strong.
In fact, NAR recently shared that "After nearly a year, the housing sector's contraction is coming to an end….Existing-home sales, pending contracts and new-home construction pending contracts have turned the corner and climbed for the past three months," according to its Chief Economist Lawrence Yun.
The real estate pros at Bankrate weighed in, too. "With housing inventory still at an extremely low 2.6-month supply, per NAR, the nation overall is still very much a seller's market."
As far as home prices go, they're still holding steady in many markets, largely due to the lack of available inventory. Although home sale profits may not be what they were during the peak in 2022, you may still see an attractive return on your investment.
Of course, current home prices could present a bit of a challenge when purchasing your next property. Fortunately, some new home builders offer special financing and other incentives to make buying a brand-new, never-been-lived-in home more affordable.
Mortgage rates
Concerned about how today's mortgage rates could impact your home sale? That's valid given they reached a 20-year high last fall, according to Forbes. However, Forbes noted that rates have recently begun to slide, which is good news for sellers and buyers, alike. "In March, mortgage rates ended the month over 30 basis points lower than where they started as more buyers returned to the market," the global media company reported.
Forbes also shared that as of April 17, Freddie Mac reported that "Mortgage rates fell for a fifth straight week following five consecutive weeks of increases." While there are no guarantees, this decrease may indicate that a shift is underway in the 2023 housing market.
"Declining [mortgage] rates seem to be luring at least some shoppers off the sidelines," reported Forbes. So now might be a good time to start preparing your home for prospective buyers. Get our handy checklist here.
Timing
Familiar with the phrase "timing is everything?" Well, spring and summer are typically the best times of year to sell a home, according to Bankrate. During this period, the days are longer and the weather is warmer—ideal circumstances for many house hunters.
Another reason why more buyers search during these months? They want to be settled into their new home in time for the upcoming school year.
Ready to put your home on the market?
Learn how to photograph it like the pros with our free Real Estate Photography Guide!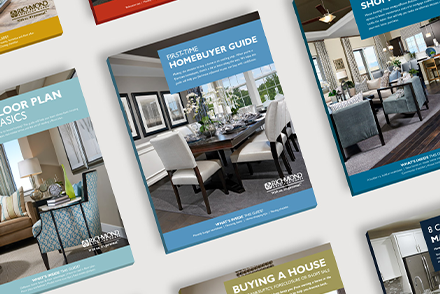 If you decide to sell your home and want to start your search for a new one, visit RichmondAmerican.com to explore communities, floor plans and quick move-in options in your area.