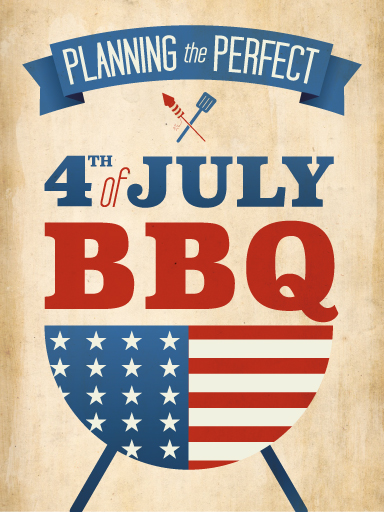 The 4th of July is the highlight of the BBQ season. Are you ready for it? If you need a little inspiration, check out these ideas collected from some of our favorite bloggers, pinners and party planners.
Create a (tastefully) star-spangled menu.
Pinterest is flooded with red, white and blue cakes, kebabs, candies, salsa, cookies, ice pops and more. We've even seen patriotic pasta and popcorn! With so many options, it's easy to go a little overboard. But, in small doses—and with the right recipes—a themed side dish, dessert or beverage can help your 4th of July BBQ stand out from every other BBQ you'll have this summer. Here are a few of our favorite ideas:
Red, white and blue beverages…
Side dishes…
Desserts…
Build a patriotic playlist.
Depending on your musical tastes, your party playlist could run the gamut from George M. Cohan's "You're a Grand Old Flag" to Mellencamp's "R.O.C.K. in the U.S.A." to Katy Perry's "Firework." If you don't have the time to build your own, you're a quick internet search away from shared playlists, like this one from USALoveList.com.
Showcase your outdoor space.
The 4th of July may be a time to celebrate "Old Glory" but your decorations don't have to be old hat. Whether your style tends toward the rustic, the glamorous or the eclectic, here are a few ideas to help inspire you:
Looking for more entertaining ideas or recipes? Browse the Homeowner Resources section of our blog, or follow us on Pinterest!