You've got a big move coming up and you may be saying to yourself, "Where do I start? There's so much to do…how do I get organized?" Not to worry, our experts have put together some effective moving tips and tricks to make your move a little easier.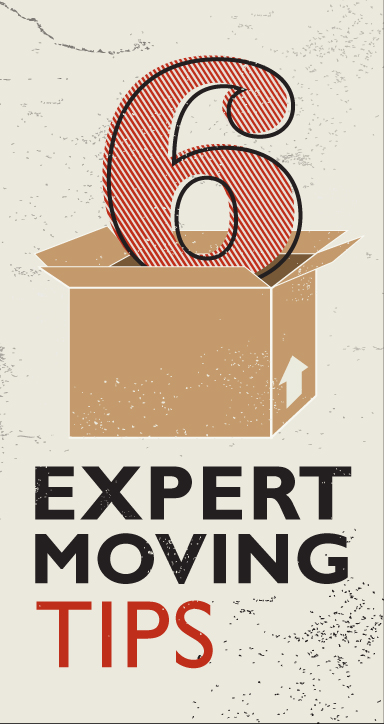 Start early. Usually we have a lot more to pack than we think. It's important to give yourself enough time to get ready for moving day. To ensure you have everything ready, we suggest you start packing at least a month in advance. It can take a lot more time than you think to completely pack a bedroom, so don't leave it for moving day or you may find yourself scrambling.
Get organized. Remember, you have to pack and unpack—organization is the key to a smooth move. Clearly label all of your boxes on two sides, preferably in thick black marker. Next, always stack heavy boxes on the bottom and light boxes on top to avoid anything being crushed. Finally, create a few "open first" boxes filled with items you will need immediately such as toilet paper, cleaning products, utensils, pet food, towels and aspirin (for that headache).
Keep boxes light. Try not to pack any boxes that are over 30 pounds. Heavier boxes are not only harder to lift, but could lead to injury and are much more likely to break open or be dropped when you are moving them. If you aren't sure how much a box weighs, use your bathroom scale and check each box as you go.
Electronics can be tricky. Do you still have the manual from your complicated home theater system? If so, pat yourself on the back. If not, then you are like the rest of us. Setting up your electronics again can be a frustrating endeavor. Take a few quick pictures of your cords and jot down some notes so you know what goes where to properly set up your electronics in your new home. You can even print out the picture and put it on the box you pack your electronics in for one less hassle.
Let people know you're moving. The first step is to change and update your address. Contact the Post Office and have them forward your mail and update your address to avoid any interruption in mail service. You will also want to update your address with your bank, your insurance providers (home, car, life, etc.) and any other institution you need to stay in contact with.
Leave contact info on moving day. Be sure to leave your contact information with whoever will be occupying your former residence, even if it's just a note on the kitchen countertop. Sometimes mail doesn't get forwarded right away or you accidently leave something valuable behind. The new residents will be more likely to try to reach you if they have your info on hand.
Want more expert moving tips and tricks? Check out our FREE homebuyer guides today: Browse homebuyer guides »