Buying your first home is an exciting milestone. For some, it's a dream come true and a proud personal achievement; for others, it's a promise for their family's future. Like any life-altering event, though, it can be overwhelming. Where do you start? How should you finance? What can you afford? The real estate jargon alone can be daunting for a first-time home buyer.
Relax. We're here to help you cut through the confusion so you can make informed, confident choices. The more you know, the less you'll stress—letting you focus on the fun parts of buying a Richmond American home.
Below are two tips to start you out in the right direction. For more info like this, get our free homebuyer guides. They explain the homebuying process step by step, and include helpful worksheets, checklists and other tools to keep you on track and in control.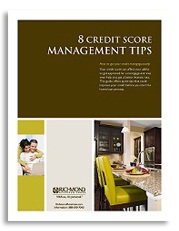 Tip #1: Find out what you can afford
Owning a home is now more affordable than rent in many markets, so you may be surprised by how much home you can buy. To find out, do a careful analysis of your finances—your income, spending and savings—to decide how much you can put into a down payment and what you can afford to pay each month. There's a handy budget worksheet in our free guide, 8 Credit Score Management Tips, that can help you with this.
Then, call a loan officer for mortgage prequalification. To streamline the process, it's best to have these items on hand:
Your most current 30-day pay stubs
All asset information (recent two-month checking/savings account info, retirement funds, stocks, bonds, etc.)
Dates of employment; address and phone number of current and previous employers
W-2s for the last two years
Rental information for the last two years (if applicable)
Federal tax returns or 1040s for the most recent two years
Your loan officer can help you determine the amount of credit you can expect and what that breaks down to in a monthly payment. Depending on your lender and factors like your credit history and income, you may be approved for more than you feel you can afford month-to-month, so make sure you have a clear, objective view of your budget.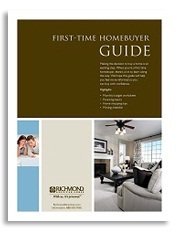 Tip #2: Start planning your Dream Home
Now comes the rewarding part: sitting down to decide what location, options and features you want in your future home. Knowing what you want helps keep the options manageable. If it helps, use the floor plan checklist in our free First-time Homebuyer Guide. It may help you stay objective.
In addition to your real estate agent, there are a number of resources available for prospective home buyers. Homebuilder websites often have virtual tours, floor plans, area maps and other tools to help you learn about their communities. At Richmond American, we go a step further and provide the support of New Home Specialists to help you in your home search. Available by phone or online chat, these area experts can give you the info a local would know: commute times, school districts, area amenities and more. Give them your wish list, and they'll give you a list of our communities and floor plans that fit the bill. Call 888-500-7060 or join our interest list by creating a RichmondAmerican.com account, and a New Home Specialist will contact you directly.