Kitchens are important. Outdoor living spaces top many a wish list. But let's all take a moment to acknowledge that owner's bathrooms are where the real pampering takes place.
What could be better than retreating to a serene, spa-like space at the end of a long, stressful day—without even having to leave your home? Following are six features to look for in your next owner's bath.
Quartz countertops
Enjoy the eye-catching elegance of marble minus the maintenance with sleek, chic and durable quartz countertops. Unlike marble and granite, quartz is non-porous and typically more resistant to stains. Plus, it doesn't require regular resealing, making it a smart choice for any bathroom!
Vessel sinks
Standards sinks are attractive and functional, but vessel sinks truly allow you to showcase your style. A modern-day spin on the wash basins of the 18th and 19th centuries, today's vessel sinks are available in a variety of eye-catching shapes, shades and materials. They're a must for your next owner's bath!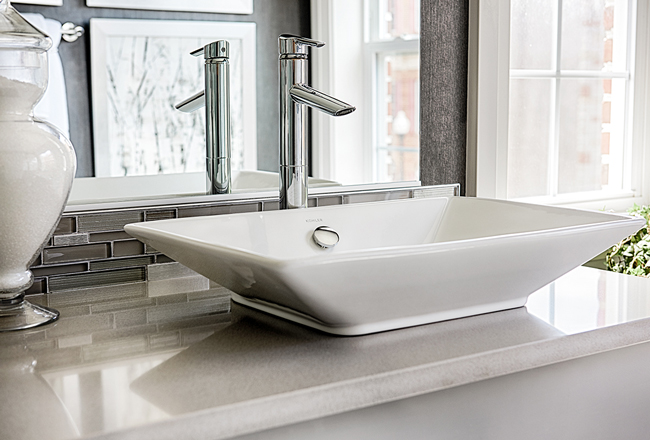 Euro glass frameless shower doors
Framed shower doors often appear bulky because their edges are wrapped in rubber or metal. Not so with Euro glass frameless shower doors, which look modern and airy in comparison. Another benefit of these sleek, stylish shower doors: they limit the number of spaces in which water can pool, which may reduce the risk of mold. Talk about beauty and brains!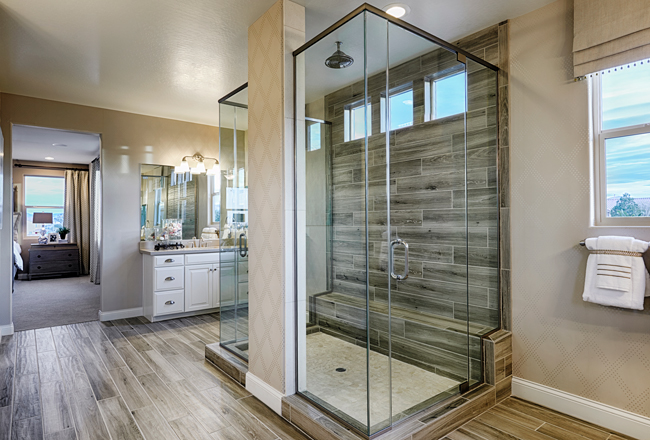 Rain showerheads
Want to experience the soothing sensation of warm, relaxing rainfall every time you shower? Outfit your next owner's bath with a luxurious rain showerhead, available in a variety of shapes, sizes and finishes. Not just for high-end hotels!
Freestanding tubs
Nothing says luxury quite like a soaking tub. And tubs that stand on their own lend style to any bathroom. So, save the built-in tubs for your secondary bathrooms, and go for the glamour in your next owner's bath!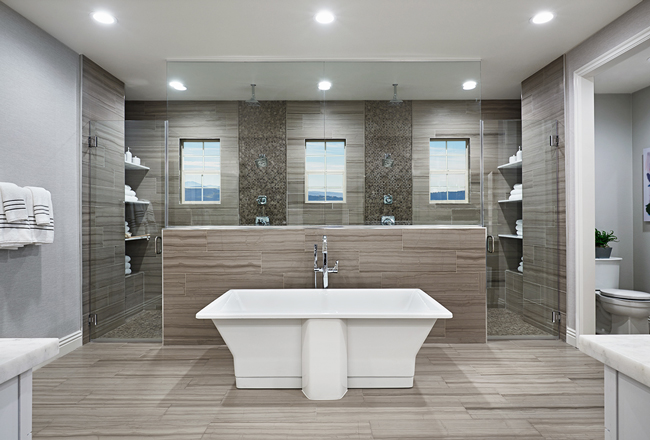 Tubs within showers
This growing trend in bathroom design is equal parts form and function. Not only is a tub within a shower a visual show-stopper, it can double as a bench and safeguard your bathroom floors and surfaces from splash-happy kiddos. Brilliant!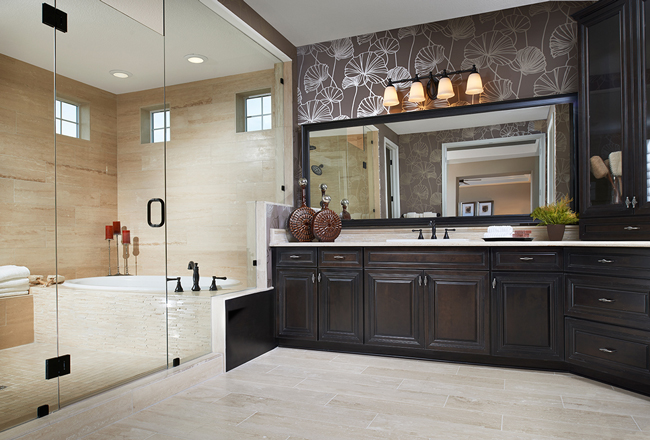 Buying a Richmond American home? Ask you design consultant which options are available in your area.
Keep following our blog for more home and design tips and visit RichmondAmerican.com to browse our communities, floor plans and homes.