Decorating or redecorating a home office? Make it comfortable, stylish and welcoming with these 6 simple organization and style tips: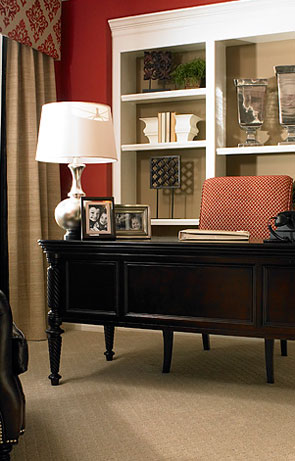 1. Plan around your windows. It's nice to have a sunny office, but you don't want a glare on your computer when you're sending an email. Before you arrange the furniture, consider the windows—and angle your desk so that you can comfortably work even if it's sunny out.
2. Designate an inbox. Specify a bin or drawer large enough for papers, folders, mail or other items that need more immediate attention.
If you have a lot of different types of paperwork, consider using multiple inboxes. You can choose boxes with front labels or label the boxes yourself with simple cards, paper tags or labels.
3. Make cords invisible. Make sure computer, phone, router and other cords are concealed as much as possible.
4. Clear off the desktop. Remove all unnecessary items from the desktop. Staplers, tape dispensers, notepads and files can be stored in file cabinets, drawers or tasteful boxes on shelves. The less clutter on your desktop, the more relaxing and welcoming your office will feel.
5. Choose art that makes you feel calm and relaxed. Your eyes need a break from the computer screen from time to time—so give them something nice to focus on. On the wall behind or beside your desk, place art, family photos or professional photography that will relax you while you work. A vase of flowers or potted plant may also add to the serenity.
6. Invest in a nice scratch pad. Instead of leaving a notepad or stack of paper out on your desktop for notes and to-do lists, consider something small and stylish. An elegant journal or simple moleskine notebook can sit on the desktop without looking like clutter.
In the market for a new home with a spacious office? We have what you need. Explore new homes now »