There are many reasons to buy a new home: the freedom to build and personalize it your way, the pride that comes from homeownership and potential tax benefits. No fear of rising rents. No landlord to answer to. It's an attractive proposition, no matter where you plan to live, but why buy a new home in Spanaway?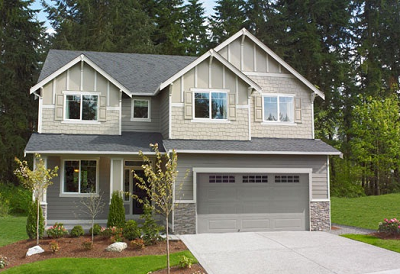 1. Small-town atmosphere, minutes from Tacoma & Olympia
Just a few years ago, Spanaway was a rural community with acres of farmland and pastures. Today, it's a thriving community that hasn't lost its country charm. The area hosts many activities and events for adults and children, including an annual Fantasy Light display at Lake Spanaway Park that's the largest drive-through holiday light show in the Pacific Northwest.
2. Buying can be cheaper than renting!
The median price for a 3-bedroom rental in Spanaway, Washington was $1,350 in August, 2012. Compare that with potential monthly payments at our Washington communities and you may be surprised at the difference.
Ready to start house hunting? Search our new homes in Washington »
3. Easy access to JBLM
Its proximity to base and affordable home prices make this area a popular choice for military buyers and their families—especially those who qualify for a VA loan. Military homebuyers in Spanaway have the independence of living off base and a chance for their Basic Allowance for Housing to build home equity, rather than just paying rent.
Stationed at JBLM? Get our free Military Homebuyer Guide. It's filled with tips and tools to help military buyers and their families along the path to homeownership.
4. Abundant outdoor recreation
In addition to the golf courses, parks and scenic trails located throughout the Mt. Rainier area, Spanaway Lake offers a wide variety of water-based recreational opportunities. Sailing, water skiing, swimming, parasailing or just relaxing on the lake's beaches are all popular local pastimes.
5. Global economic players
Pierce County hosts manufacturers like Boeing, Birdseye Foods and Milgard Manufacturing. REI, Fred Meyer and Costco have distribution centers there, and State Farm and DaVita both have regional headquarters in the area.
Looking for a job in Pierce County? Click here »