Summer may be coming to a close, but sensational salads are always in season! It's time to trade in lighter ingredients, like berries, black beans and peaches, for hearty fall favorites, such as butternut squash, cranberries, pumpkins and sweet potatoes. We've gathered a bounty of simple, flavorful autumn salad recipes that you're sure to fall for in the coming months. So, grab your sweater and your pumpkin spiced latte and start planning your seasonal salad menu!
Nothing says fall quite like the combination of apples, cranberries and roasted butternut squash. Equal parts sweet and salty, this must-try salad has all the seasonal staples you've been craving. Plus, bacon!
Rich, creamy burrata enhances the flavor of tart cranberries and delicate persimmons in this delicious autumn salad recipe. Don't be surprised if family and friends ask for seconds!
Apples and pears are a winning combination, and this sweet and satisfying salad is sure to win over everyone at your table! Did we mention that it only takes 20 minutes to prepare?
What better way to kick off pumpkin season than with a savory, satisfying salad? This one is gluten free, vegetarian and made with a bevy of good-for-you ingredients, such as arugula, feta, almonds and quinoa.
Take your salad game to the next level with this appetizing autumn salad starring tandoori-inspired roasted chickpeas. Dried cranberries, crunchy pepitas, pomegranate arils and apple cider vinaigrette all play a supporting—and satisfying—role.
Many people associate pasta salad with spring and summer. But this colorful orecchiette salad is packed with dried cranberries, tart apples and toasted pecans, making it a perfect pick for a fabulous fall day!
Not all chopped salads are created equal. This fall-inspired version is loaded with some of the season's signature ingredients, including cranberries, crisp pears and toasted pecans.
Traditional cobb salad gets a seasonal makeover with apples, cranberries, butternut squash and maple balsamic vinaigrette dressing. There's a good chance this will become your go-to salad of the season!
Boasting roasted sweet potatoes, pomegranate arils, pumpkin seeds and kale, this autumn salad is nutritious and delicious. And don't even get us started on the creamy almond butter dressing!
Butternut squash and brussels sprouts share the spotlight in this seasonal twist on a classic Caesar salad. Great as a main course or side dish!
---
Time for a new home?
Get tips for touring models, choosing a floor plan and more!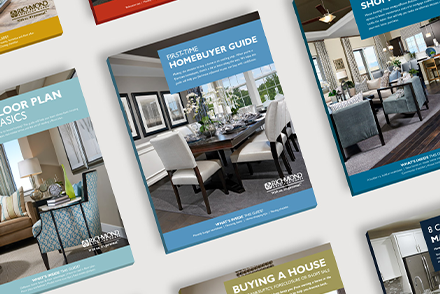 Keep following our blog for recipes, decorating tips and more!