From choosing your floor plan to selecting your homesite, there are countless benefits to building a new home. But many happy homeowners have told us time and again that the most exciting part of their homebuying journey, by far, was personalizing their brand-new living spaces. That's why we strive to ensure every home we build is as unique as its residents—not an easy feat considering we've completed over 185,000 homes in the past four decades!
There are many important decisions you're going to make between contract day and moving day. Traditional or contemporary finishes? Porcelain tile or hardwood flooring? Home theater: yea or nay? You can expect these questions and more in the coming months.
Don't worry if you don't have all the answers. We're here to help you every step of the way. Every buyer who builds a Richmond American home from the ground up (and even some who purchase a home that's already under construction) will receive a complimentary appointment with a professional design consultant at our Home Gallery™.
We realize that not all homebuyers are alike. Some show up for their Home Gallery™ appointments with magazine clippings and fabric swatches in hand. Others come in with nervous glances and lots of questions. Regardless of where you're at, your personal design consultant will walk you through your options and help you achieve an end result that will dazzle you for years to come.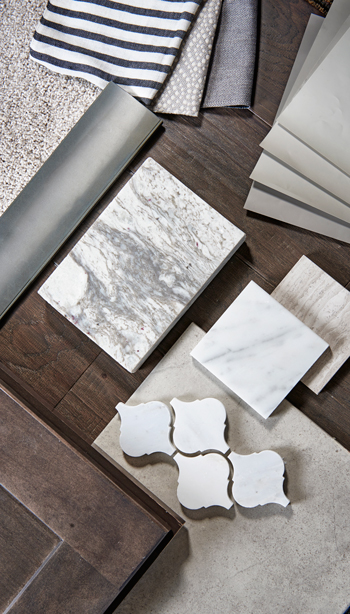 The Home Gallery™ offers hundreds of finishes and fixtures from popular national vendors, such as Delta®, GE® and Progress Lighting. Your design consultant will help you choose:
Cabinetry
Countertops & backsplashes
Flooring
Lighting
Paint
And more (e.g., home theater, security system)
Perhaps best of all, our finishes are color matched to take out the guesswork and your design consultant will help you make selections that are professionally coordinated and on budget. Now, who's ready to design their dream home?!
Learn more about our Home Gallery™ and be sure to check out our Pinterest boards to find home design inspiration before your Home Gallery visit!