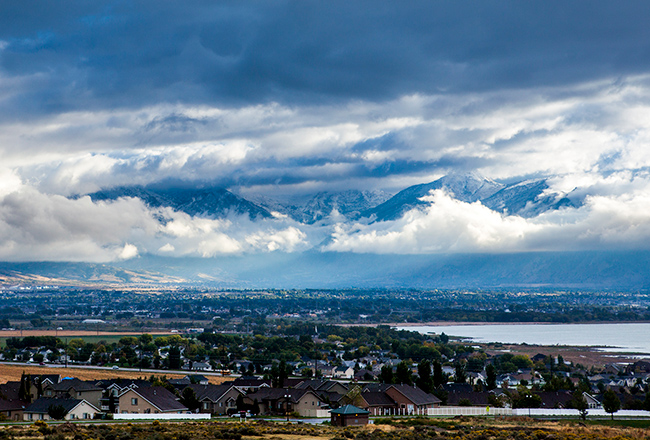 Nestled between the shores of Utah Lake and the majestic peaks of the Wasatch Range, the Utah Valley is home to some of the state's most vibrant communities such as Provo, Lehi, Springville and many more! Just a short drive south of Salt Lake City, these rapidly growing towns in Utah County boast scenic views, top school districts and a wide range of activities for everyone. To find out more about the charms of living in the heart of Utah, read below!
Outdoor Wonderland
Utah is known for its natural beauty, and the communities of Utah County are no exception. Here are just a few ways to enjoy the scenery around the valley.
At over 200 feet, Stewart Falls is one of the state's tallest waterfalls. To get to this dramatic view, enjoy a scenic stroll through the aspen forests of the Mount Timpanogos Wilderness. This three and a half-mile long trail is rated as "easy" so bring the whole family!
Want to take in the views without working up a sweat? You can by taking a drive on Highway 92 to the Alpine Loop Scenic Byway. This 20-mile stretch of paved road leads through canyons, forests and the tallest peaks in the county. It also leads past the popular Timpanagos Cave National Monument.
Nearby Skiing
Just a half-hour drive from Provo, Utah County's own Sundance Mountain Resort features 42 runs for skiers and snowboarders of all experience levels. Want more? The slopes of Park City, Alta, Snowbird and more are all within an hour's drive, giving you access to the best powder Utah has to offer.
Utah's Art Capital
The map may say Springville, but locals know it by the town's well-deserved nickname: Art City. This rapidly-growing town is home to the Springville Museum of Art, Utah's oldest museum for visual arts. Around town, you can find dozens of bronze statues created by local sculptors, along with numerous art galleries and shows. Every June, the town hosts Art City Days, a three-day festival in honor of the town's artistic heritage. The celebration features a carnival, hot-air balloon fest, grand parade and a fireworks show to cap it all off.
Springville's artistic spirit has spread to the rest of the valley, with plenty of local artists displaying their works around Utah County. In Provo, the Brigham Young University Museum of Art hosts many well-known pieces, as does the Woodbury Art Museum in Orem.
Always Something To Do
Every summer, Provo celebrates American Independence with the country's largest freedom festival, featuring weeks of events ranging from a colonial heritage fair to concerts and hot air balloon launches. Some of the most notable events include the Freedom Festival Grand Parade and the Stadium of Fire, America's largest stadium fireworks show with special performances from famous music stars like Keith Urban and OneRepublic.
Celebrate the holiday season with an enchanting walk through the Ashton Gardens at Thanksgiving Point, where a gigantic light display featuring 8,000 programmable luminaries dazzles guests every winter. Visitors can admire the towering 120-foot tall tree, lit up in sparkling lights. There are also games, live reindeer, treats and many more festive lights displays to enjoy. Be sure to take your family to this holiday wonderland!

Residents from across the county gather every August to take part in the food and fun of the Utah County Fair, held at the beautiful Spanish Fork Fair Grounds. Admission, parking and many events are free, so don't hesitate to come and enjoy the demolition derby, the monster truck rally, the rodeos, the rides or any of the dozens of ways to have fun.
Two Nearby Universities
Utah County is the proud home of both Brigham Young University in Provo and Utah Valley University in Orem. Together, these two schools provide plenty of interesting attractions and events. Enjoy Division I sporting events or take in one of the fine museums both campuses have to offer. Also, be sure to check out the surrounding restaurants and entertainment!
Looking for a new home in Utah County? Take a look at some of our exceptional communities in the region.