If you've been through a short sale, foreclosure or bankruptcy, you're not alone. Millions of Americans have been in your shoes, and many have moved on to become homeowners again. You can, too. Buying a home may be a little more challenging this time, but it can still be a part of your family's future. In fact, you could be a homeowner again sooner than you think.
Typical waiting periods
After a major credit event, you may have to wait to apply for a new mortgage. Different types of loans have different waiting periods, eligibility requirements and guidelines. FHA loans, for example, can be more forgiving of past credit difficulties than conventional loans because they are federally insured. Less risk for the lender = more opportunity for you. Here's a brief overview of what you can expect: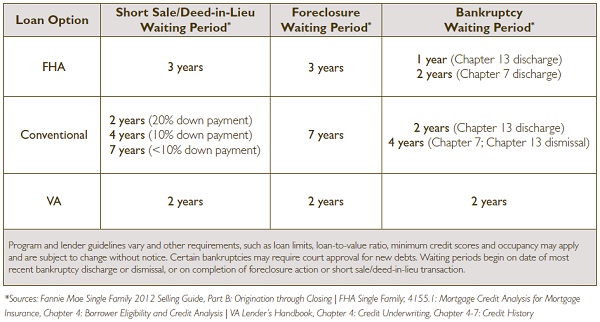 Extenuating circumstances
If your financial troubles were caused by events beyond your control—such as a major illness or injury, divorce or the death of a spouse or wage earner—your waiting period may be shorter, even as brief as one year! Talk to a loan officer at HomeAmerican Mortgage Corporation (866-400-7126) about your individual situation.
What to do if you have to wait
Take this time to save up for a down payment and work on reestablishing your credit history. Remember, the better your credit is by the time you're ready to buy, the better your rate and terms may be. Before you know it, you'll be ready to purchase your dream home.
Was this article helpful? Consider downloading our new guide, Buying a House After Bankruptcy, Foreclosure or Short Sale. It's filled with tips for rebuilding your credit and building your savings, budgeting tools, loan comparisons and other info to help put you back on the path to homeownership. Get your free copy here »