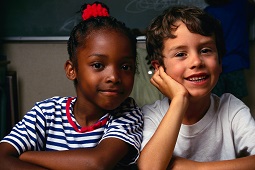 Many homebuyers in the Tucson, Arizona area with school-age children are moving south of the city to live within the Vail School District. It's easy to see why! Exceptional ratings on national school websites and high test scores make the schools in this district a popular choice.
The high school experience
As of July 2013, Cienega High School and Empire High School are rated 9 and 10 respectively on GreatSchools.org, a website that rates schools on a 10-point scale according to test results in reading, writing, math and science.
Each high school has a variety of unique offerings. According to their website, Empire High School is the first textbook-free public high school in the country. Each student is given a laptop and curriculum is created and sourced by teachers in the district. This innovative approach focuses on nurturing self-directed learners. The more traditional Cienega High School has its own benefits, including free Pima Community College classes.
Athletic opportunities at both schools include football, basketball, baseball, softball, golf, track, soccer, cheer, volleyball and wrestling.
For information on choosing a high school, you can call the district directly at 520-879-2000.
Elementary and middle schools
The Vail School District also caters to elementary and middle school-age children. Of the elementary schools with published ratings on GreatSchools.org in July 2013, all are rated a 9 or 10. Likewise, there are two middle schools in the district scoring a 9.
There are many great reviews of various schools within Vail School District on GreatSchools.org, including this five-star review from a parent at Cottonwood Elementary School: "I love the teachers, the atmosphere, the values daily presented by this school! We've attended many schools (as a military family) and this one has been the best public school we've attended."
Real estate in Vail School District
With low inventory levels in resale real estate, new construction is a great way to buy a home and secure your child's enrollment in the acclaimed Vail School District. If you're in the market for a new home, be sure to check out the following communities:
Oasis Santa Rita in Tucson [SOLD OUT]
New homes from the low $200s
Up to approx. 3,500 sq. ft.
Sycamore Point in Tucson
New homes from the upper $100s
Up to approx. 2,150 sq. ft.
Aviara in Tucson [SOLD OUT]
New homes from the mid $100s
Up to approx. 3,000 sq. ft.