Wondering if it's time to start childproofing your home? Here's a good rule of thumb: If your kiddo's about to crawl, you'd better get on the ball!
There are literally hundreds of products aimed at making your home a child-friendly zone. Following are some popular ways to childproof the rooms in your home. Please keep in mind that this list is just a starting point, and is by no means exhaustive.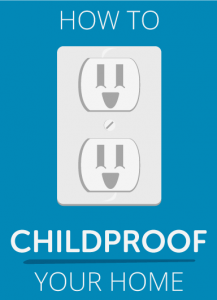 The kitchen.
Child safety locks, latches and covers can help protect tiny fingers from injury by drawers, doors and appliances.
Household cleaners and chemicals and sharp objects, like knives, vegetable peelers and scissors, should be stored safely out of reach.
The family/great & living rooms.
Do your coffee and/or end tables have sharp edges? Convenient corner guards and expandable bumpers may help protect your little one from inadvertent bumps and bruises.
Hearth gates can help your curious child remain at a safe distance from fireplaces.
The study/home office.
Many people choose to tape or tack down loose wires from computers, printers and other devices or use wire covers to bundle and secure cables.
Paper shredders can be dangerous to little fingers so you may want to keep yours unplugged and out of reach, along with other potentially hazardous items like scissors and letter openers.
You may want to affix your computer monitor to your desktop so your son or daughter can't accidentally knock it over.
The bedrooms.
Have you checked your dresser, night tables and other surfaces for "choking hazards" (e.g., earrings, spare change) and chemical products, like perfume and body lotion?
Child safety locks and/or latches may help prevent injury from drawers.
For the nursery, you can also reference the Safe to Sleep® crib safety guidelines.
The bathrooms.
Keep all chemicals (e.g., rubbing alcohol, nail polish remover) and sharp objects (e.g., scissors, nail clippers and razors) safely out of reach.
Store all medications in a medicine safe or lock box.
Consider installing an anti-scald device on faucets to help prevent accidental burns. There are even models designed to automatically shut off the water before it reaches scalding temps—no plumber required!
A toilet lid lock may help prevent your child from accidentally falling into the toilet or slamming the lid on their little fingers.
The whole house.
Doorknob covers, child safety gates, play pens and freestanding play yards may help prevent children from invading potentially dangerous territory.
Simple outlet covers may protect crawlers and toddlers from an accidental jolt. And don't forget to plug the covers into surge protectors!
Pediatricians often recommend cord-keeping devices on all of your window treatments, or opt for cordless coverings to help keep kiddos from encountering a tangle of trouble.
Furniture anchors can be used to secure bulky, heavy furniture that your youngster may be tempted to climb on. Anchors or wall mounts may prevent TVs from toppling over.
Keep decorative objects, like picture frames, vases and works of art, out of reach to avoid accidental injury.
You may want to replace older, plastic-tipped doorstops with new, one-piece models to reduce choking risk.
Need to start shopping? Visit OneStepAhead.com or Diapers.com to shop for many of the devices listed above.
Keep following our blog for more useful homeowner resources!