What wistful afternoon spent outdoors isn't made better by a picnic? While you can always get by with some of the old standbys—e.g., PB&Js, watermelon, potato chips, lemonade—it's always fun to approach your empty basket with a wild sense of adventure. We are venturing into nature, after all.
For inspiration, check out our themed picnic packages below—and get packing!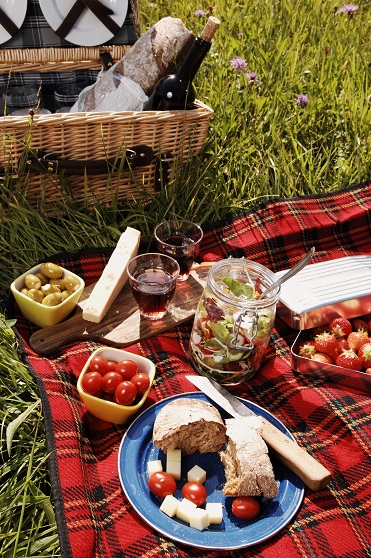 THE FRENCH BASKET
Don your finest beret, toss a Parisian-knotted scarf over your shoulder and add a certain je ne sais quois to your next picnic outing with this delectable basket.
THE JAPANESE BASKET
Roll up your picnic blanket, pack it in the car. Roll up some sushi, pack it in the basket!
THE MEDITERRANEAN BASKET
Transport yourself to the Mediterranean seaside with this fresh (and refreshing) spread.
THE AMERICAN BASKET
All food items you're likely to find at your local American drive-thru. Don't forget the condiments!
BONUS "OUT-OF-THE-BASKET" IDEA: PICNIC ON A STICK
This one's easy and fun. Simply build an entire picnic around food skewers! Anything goes, really, but here are suggestions for a full course.
---
For more ideas, check out our Picnic Inspiration board on Pinterest!