When choosing the best home builder for your new home, it pays to remember the old adage, "trust, but verify." Most builders are skilled at staging a beautiful model home, which is why it's important to equip yourself with the right know-how to identify which builder you can depend on, differentiating yourself from average window shopper to informed homebuyer. To help simplify that process, we've compiled a list of helpful tips on how to choose the best home builder for you.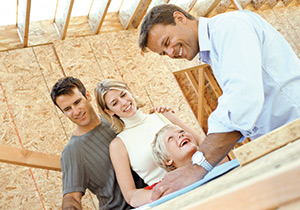 Experience
Building high-quality, durable homes that cater to homebuyers' unique lifestyle needs is a hard-earned skill built up through time and experience. Before committing to a home builder, conduct some research on their history. How long have they been around? Do they have a strong financial foundation that supports quality craftsmanship? If yes, that could be a major differentiator from other home builders, who may lack the expertise and fiscal stability to trust with your most important investment.
Empowering or restricting?
A good home builder knows that buyers want quality standard features that don't need to be upgraded, while also desiring the freedom to personalize their new home. A variety of floor plans, attractive standard features and the ability to choose design options on everything from cabinetry to home technology are signs of a quality home builder. Also check to see if the builder offers a selection of both quick move-in and to-be-built homes, giving you an attractive range of home options that works with your moving timeline.
Energy-efficiency
Energy-efficiency could be one of the biggest potential cost-savers in homeownership. That's why you'll want to ensure your builder offers a solid energy package. Do they include an efficient HVAC system and top-notch insulation? What about other quality energy options, like ENERGY STAR® qualified low-emissivity windows? Energy-efficiency is one of the great perks of buying new, so investigating a builder's energy-efficient offering is vital before making a commitment.
Commitment to long-term service
One sure way of knowing whether a builder is truly dedicated to your satisfaction is determining how substantial the builder's warranty and post-closing services are. Do they offer a comprehensive warranty package to provide peace of mind? How about follow-up visits after you've moved in to ensure your long-term satisfaction? Choosing a builder that provides solid safety netting and seeks a continuous relationship with customers is a reassuring sign that you're in good hands.
Interested in more tips for choosing a great home builder? Check out our extensive guides for helping you successfully navigate the path to homeownership!
Comparison Shopping Guide »