Early Years
1966
Larry A. Mizel began developing and managing real estate in the Denver Metropolitan area in 1966, a year before he graduated from the University of Denver Law School with a Juris Doctor Degree.2
1972
In 1972, Mizel and his associate, Emil Hecht, founded Mizel Development Corporation with only $50,000 in capital, to buy and sell real estate and acting as general contractor for the development of commercial properties. The Company went public that same year.1
During its first two years in business, MDC saw success in construction, real estate development and property management. Projects included multi-million-dollar apartments and condominiums, as well as commercial projects.2
While Mizel provided an entrepreneurial spirit and real estate experience, Hecht contributed valuable accounting experience from his years as a co-developer in various real estate ventures in the Denver metropolitan area.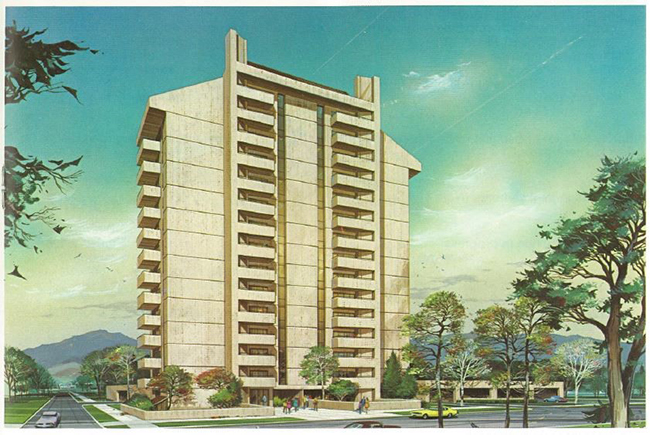 The mid-70s were difficult economic years for most Colorado real estate companies, but the Company persevered, continuing to strategically buy and sell property and adjust to market conditions. In 1976, executive leadership saw an opportunity to consolidate and simplify their business affairs in preparation for future expansion by making a single disposition of condominiums in order to focus on other endeavors.3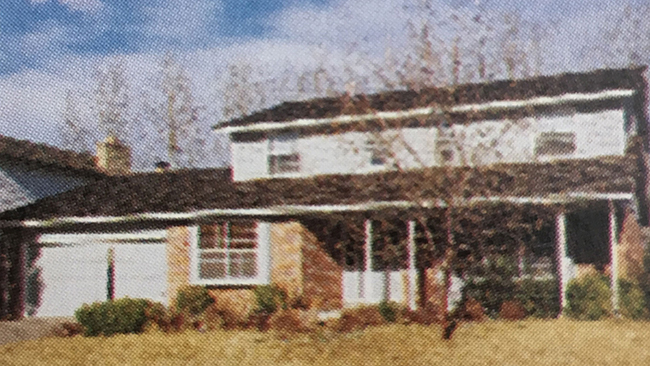 In its first full year of operation, Richmond Homes Limited closed 27 single-family homes in southeast Denver. By the end of the year, 65 homes were under construction and MDC had obtained $2 million in loan commitments.5 David's homebuilding vision and intuition, coupled with Larry's astute real estate and general business talents, resulted in a powerhouse combination that would fuel the growth of Richmond American Homes to the leading homebuilder it is today.
1977
In 1977, the Company changed its name from Mizel Development Corporation to M.D.C. Corporation. This was also the year that future CEO, David D. Mandarich, joined the company. Notably, 1977 was also the year Richmond Homes Limited was established to complement MDC's real estate operations with single-family homes. This would later become the brand we know today as Richmond American Homes.4
Poised for Growth
1983
By 1983, company leaders were looking to expand homebuilding operations to other areas of the country. The Company took the first steps toward becoming a major national builder by acquiring two proven housing companies—Olin-American of Florida and Cavalier Homes of Arizona.6

Like many homebuilders, MDC faced the increasing cost of providing competitively priced mortgage financing for its homebuyers. To meet this challenge, MDC established a wholly owned mortgage banking subsidiary in 1983, HomeAmerican Mortgage Corporation, to develop new sources of financing for customers.7 Today, HomeAmerican is the principal source of financing for Richmond American homebuyers.15
1984
Then in 1984, MDC achieved one of its most rewarding milestones—its listing on the New York Stock Exchange.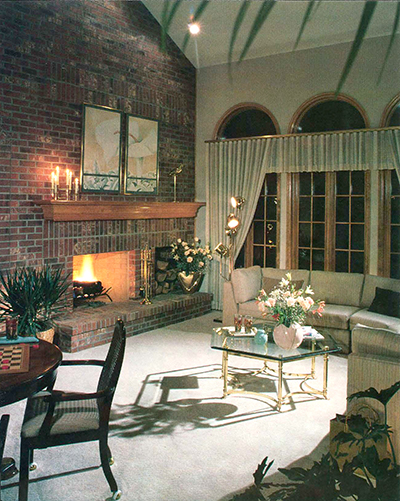 Opportunity from Adversity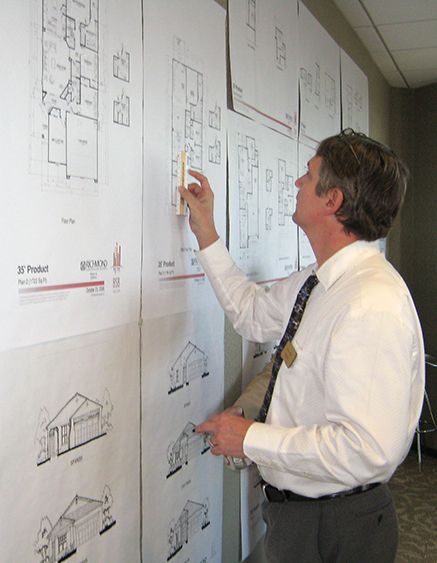 Now named M.D.C. Holdings, Inc., a Delaware Corporation, the Company continued a strategy of geographic expansion in 1985 to diversify its operations and strengthen its balance sheet. By this time, homebuilding subsidiaries began operating under the name Richmond American Homes.8
Expansion continued through the acquisition of Wood Bros. Homes, Inc., a nationally known homebuilder operating in six states. This key acquisition allowed the Company to enter the Dallas-Ft. Worth area, expand Washington, D.C. and mid-Atlantic activities, and establish a larger footprint in both Arizona and Colorado. The Company also purchased two subdivisions with over 400 homesites in Riverside, California.8
1985
Nineteen-eighty-five proved to be a pivotal year leading to the Company becoming one of the largest homebuilders in the nation, with operations in seven states and a 46% increase in revenues over the previous year.8
MDC commemorated its 10th anniversary of single-family homebuilding operations in 1987. The year was also marked by the election of co-founder and Senior Vice Chairman, Emil Hecht, to the position of Chairman Emeritus.9
Though there was much to celebrate, the industry was once again facing hard times. Rising interest rates and a stock market crash in October 1987 shook consumer confidence. However, MDC reaped the benefits of past planning, commencing new housing operations in Sacramento, San Diego, Las Vegas, Tampa and Atlanta.9
1988 & 1989
In 1988 and 1989, Colorado, Texas and Arizona continued to experience weak housing markets. Through a substantial restructuring of its activities, MDC was able to reduce expenses and improve cash flow.10
The Company not only survived the 80s housing slump, but another recession in the early 90s. During this time, leadership implemented a strategic plan to reduce exposure to the high carrying costs of owning land during periods of slow home sales. By the end of 1991, the Company was able to decrease operating costs and retire over $700 million in debt. It is a matter of pride that the Company has been able to remain strong and profitable, even during tough times for the homebuilding industry.16
Years of Continued Expansion
The Company continued to be nimble, successfully entering and closing out of regions according to housing market conditions and projections. More recent history is marked by several key milestones of the Company and its subsidiaries.11, 12
1995 – 2021
1995: Southern California operations expanded through the purchase of the assets of Mesa Homes, thereby significantly increasing presence in the Inland Empire.
1996: Las Vegas operations boosted with the purchase of Longford Homes' assets. Title company affiliate, American Home Title and Escrow established.18
1998: American Home Insurance Agency, Inc., also known as AHI Insurance Agency, established with the vision of providing convenient service, competitive rates and comprehensive coverage.19
2002: The Company entered the Utah market and expanded Nevada and Virginia operations through the purchase of the assets of John Laing Homes.
2005: California operations expanded by acquiring control of approximately 1,200 finished residential lots in the Central Valley of California from Del Valle Homes.
2011: Washington state operations were established with the purchased the assets of SDC Homes, a leading builder in the Seattle area, launching operations into the Pacific Northwest.20
2022: Richmond American subsidiaries expanded into new states, bringing the total to 17 states of operation.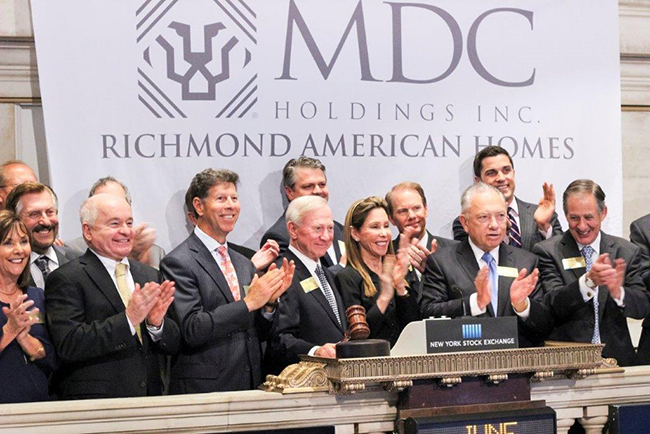 A Focus on Personalization
MDC found success over the decades through a disciplined approach to business, as well as focused product offerings. Richmond American's clear differentiator is the ability to personalize a home from top to bottom with hundreds of options and upgrades.
Many builders have sought to limit their design offerings in favor of assembly-line efficiency, but that has never been MDC's chosen business model. Instead, customers are given more choices, resulting in personalized homes that reflect the homeowner's unique style preferences. With us, it's personal™ is the Richmond American tagline, which includes both a personalized home and personalized service from start to finish.
The outstanding level of personalization is evident at the Company's Home Gallery™ design centers. While other builders may offer a handful of cabinetry and flooring options, Richmond American has hundreds of choices on display. To make the selection process foolproof, finishes are divided into professionally color-matched Color Studios, and complimentary design assistance is available to every homebuyer who builds a home from the ground up.
Giving Back to the Community
Giving back to the community was always important to founder Larry A. Mizel, even in the 70s. From pitching in for youth baseball team uniforms, to raising funds for Children's Hospital Colorado, it was important to him that M.D.C. Holdings, Inc. lifted up communities in the regions where it operates.
Among many other charitable endeavors, Mizel was a founding member of the Denver Rustlers, which raises scholarship money through the Junior Livestock Sale at the annual Colorado State Fair to this day. He also worked to establish the Mizel Museum, which provides art and education programs to promote tolerance. As a extension of the museum, Mizel also helped to later establish The CELL, (Counterterrorism Education Learning Lab), a center dedicated to preventing terrorism through education.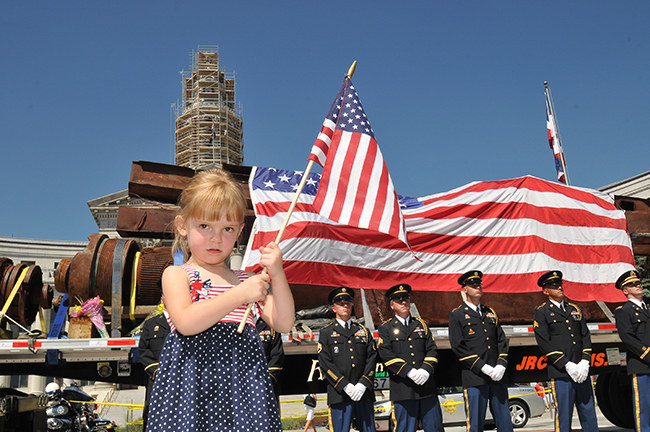 The charitable example set by leadership had far reaching impact. Following the 9/11 tragedy, MDC, its employees and subcontractors raised $1.1 million in support of victims.
Many acts of philanthropic involvement over the years culminated in the formation of the MDC/Richmond American Homes Foundation in 1999. Since that time, the Foundation has been able to give millions to organizations across the globe dedicated to enhancing health care, embracing diversity and helping those in need.
Notable Foundation contributions include a $1 million donation to the National Homeland Defense Fund in 2005. And numerous contributions to The Denver Posts' Season To Share program over the years surpassed $1 million in 2015.13
The Foundation also served as a vehicle for responding to needs arising from natural disasters. Following the devastating earthquake in Haiti in 2010, Colorado governor Bill Ritter organized a mission to bring 32 orphans in the final stages of adoption safely home to their new parents. The Foundation was quick to lend financial support, contributing funding to help make that dream possible.13
The Modern Era
The homebuilding industry experienced one of the most severe downturns in U.S. history from 2006 to 2011. Customers had a difficult time qualifying for loans, home prices and land values dropped, and elevated levels of foreclosures and short-sales constrained the demand for new homes, resulting in significant inventory impairments and operating losses.17
Having previously experienced industry downturns in the Company's foremost years, MDC served as an example of resiliency and strength during this turbulent cycle. Wisdom gained through previous cycles taught leadership not only how to survive, but how to prosper during challenging real estate climates.
Today, MDC enjoys an indisputable reputation as a housing industry leader. The Richmond American companies across the country, as well as three MDC affiliates, HomeAmerican Mortgage Corporation, American Home Insurance Agency, Inc., and American Home Title and Escrow Company, respectively, build, finance and insure the American Dream for thousands of families across the country every year. More than 230,000 homes have been built from coast to coast. As of 2021, MDC was ranked 12 on Builder Magazine's annual Builder 100 list.
Now in 2022, Larry A. Mizel and David D. Mandarich remain at the helm, as Executive Chairman and Chief Executive Officer, respectively. They continue to demonstrate invaluable guidance and seasoned leadership. This long-standing expertise is balanced with a variety of new perspectives and emerging corporate leaders. The Company promotes from within when possible, with an increasingly diverse corporate management team averaging 15 years of experience at MDC (February 2022).14
MDC is stronger than ever and focused on homebuilding excellence, financial strength and community sustainability. With a renewed emphasis on energy savings, the Richmond American companies launched a national solar program, and other energy saving options, making sustainable energy accessible to buyers from coast to coast.
As MDC looks to the future, it will leverage the core principles that led to past success, while welcoming new perspectives that help generate growth, continuing to build a legacy for the next generation.
1 Mizel Development Corporation, Annual Report, 1972.
2 Mizel Development Corporation, Annual Report, 1973.
3 Mizel Development Corporation, Annual Reports, 1975 & 1976.
4 M.D.C. Corporation, Annual Report, 1977.
5 M.D.C. Corporation, Annual Report, 1978.
6 M.D.C. Corporation, Annual Report, 1983.
7 M.D.C. Corporation, Annual Report, 1984.
8 M.D.C. Corporation, Annual Report, 1985.
9 M.D.C. Holdings, Inc, Annual Report, 1987.
10 M.D.C. Holdings, Inc. Form 10-K. For the year ended December 31, 1989.
11 M.D.C. Holdings, Inc. Form 10-K. For the year ended December 31, 2005.
12 M.D.C. Holdings, Inc. Form 10-K. For the year ended December 31, 2011.
13 Foundation Distributions Records, 4.8.2022
14 MDC Corporate Sustainability Report, 2021.
15 M.D.C. Holdings, Inc. Form 10-K. For the year ended December 31, 2021.
16 M.D.C. Holdings, Inc, Annual Report, 1993.
17 M.D.C. Holdings, Inc. Form 10-K. For the year ended December 31, 2012.
18 M.D.C. Holdings, Inc. Form 10-K. For the year ended December 31, 1996.
19 M.D.C. Holdings, Inc. Form 10-K. For the year ended December 31, 2000.
20 M.D.C. Holdings, Inc. Form 10-Q. For the period ended September 30, 2011.