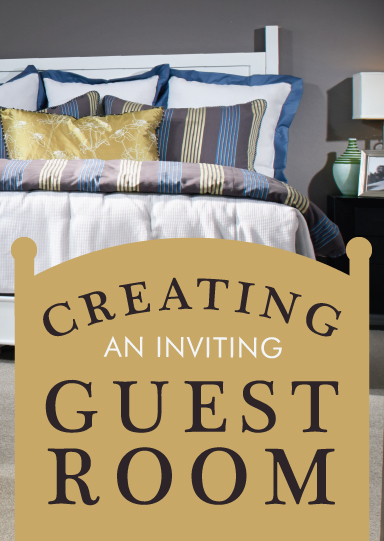 Your houseguests probably don't expect hotel-like accommodations. But that doesn't mean you can't wow them with a warm, welcoming space that's worthy of a five-star rating. Creating an inviting guest room is easier than you might think. Read on to learn how to transform your spare bedroom and bathroom into the ultimate guest getaway in just five simple steps.
STEP 1: CLEAR THE CLUTTER
An old set of golf clubs, your prized collection of PEZ® dispensers, a stack of yearbooks from the mid '80s… What do these items have in common? The potential to detract from the peaceful ambiance you're trying to create.
Rid your guest room of knickknacks and clutter, including excess furniture. Having just a few key pieces, like a bed, dresser, nightstand and—space permitting—comfortable seating area, can make even the smallest room feel open and airy.
STEP 2: FRESHEN UP
Want guests to feel welcome and relaxed? Paint the walls a neutral color, like taupe or gray. This simple step can revitalize the room and help achieve a serene, soothing environment for friends and family. Plus, a neutral wall color can provide the perfect backdrop for some vibrant, well-placed accent pieces, like throw pillows—but we'll get to those later.
Two more ways to freshen up your space before visitors arrive: Give it a quick spritz of anti-odor spray (just in case!) and dress up the nightstand with a fragrant bouquet of flowers in an elegant vase.
STEP 3: MAKE (STORAGE) SPACE
Giving your guests little to no storage space doesn't exactly scream, "I'm so glad you're here!" Avoid sending mixed messages by providing plenty of room for your visitors and their belongings. How much room should you set aside for your guests' effects? It depends on 1.) how many visitors you're hosting and 2.) the duration of their stay. One overnight houseguest clearly requires much less storage space than your sister and her husband who will be visiting for two weeks.
STEP 4: BUY THE BASICS
How many times have you forgotten a toothbrush, deodorant or hair dryer while traveling? Keep these and similar items on hand in case your guests overlooked any essentials while packing.
Place a small basket on the bathroom counter and fill it with toiletries, such as travel-sized shampoo and conditioner, soap, mouthwash, toothpaste, cotton swabs, disposable razors—even hairspray and a blow dryer. Also include items like a first aid kit, sewing kit and stain removal wipes (you never know when they might come in handy!). Finally, stock the bathroom with an ample supply of washcloths, hand towels and fluffy bath towels so your guests won't have to ask before showering.
STEP 5: DRESS UP THE BED
By this point, your out-of-towners should have a fresh, clutter-free space that radiates tranquility as well as easy access to any toiletries they may have forgotten. Now it's time for the pièce de résistance—the bed. Nothing inspires a good night's sleep like a high-quality pillow-top mattress dressed in 400+ thread count Egyptian cotton sheets. Add a lavish duvet and extra blankets to ensure your guests remain comfortable, and brighten up the room with a mountain of throw pillows in your favorite shade. Think about mimicking your favorite hotel's bedding, which may even be available for purchase. Start your search at the Ritz-Carlton, Hilton and Marriot websites.
FINAL TOUCHES
Last, but not least, place some of the following items on the nightstand or dresser to ensure your guests feel at home in your home:
A handwritten welcome note
A carafe of water and drinking glasses
A box of tissues
An alarm clock
Your Wifi passford
A selection of books and magazines
An extra set of keys so they can come and go as they please
Want more home decorating ideas? Visit our Pinterest boards or tour a model home at a Richmond American community near you.