From historic vineyards and sophisticated farm-to-table restaurants to scenic mountain escapes and more, Loudoun County is one of our favorite places both to live and explore fun, relaxing getaways whenever the mood strikes. To see what we mean, check out our list of destinations you could take advantage of with a new home in northern Loudoun County's Lovettsville Town Center.
Vineyard tours & wine tasting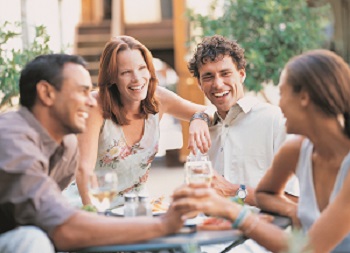 Lovettsville is perfectly situated as a launching pad for an exceptional flight of wineries in Loudoun County. Area highlights include Breaux Vineyards, Tarara Winery (near the Potomac River), Notaviva Vineyards, Hiddencroft Vineyards and Cardamon Family Vineyards. Whether you're a full-fledged wine enthusiast or just one to raise the pinky every now and again, you'll be hard-pressed to find better (grape) stomping grounds.
Drive time: Half-hour or less
Catoctin Mountain Park (website)
Located in the Appalachian Mountains just across the state border, this scenic destination is famously home to Camp David and neighbors the beautiful Cunningham Falls State Park. Together, the two wilderness areas comprise 25 miles of hiking trails and boast numerous outdoor activities, including camping, skiing, horseback riding, rock climbing, fishing and more.
Drive time: Hour or less
Stone Manor Bed & Breakfast (website)
If you'd like a little extra time to enjoy the rolling countryside you now call home—to taste fine wines, explore Civil War-era sites, catch up on much-needed R&R and more—Stone Manor is your ticket. A highly rated bed-and-breakfast in Lovettsville that's literally housed in an old stone manor, this picturesque destination is a great way to set aside life's distractions and fully appreciate your new hometown's idyllic surroundings.
Drive time: Half-hour or less
Harpers Ferry National Historical Park (website)
Take a stroll through Civil War history with a visit to Harpers Ferry National Historical Park. Aside from the incredible museums and old battlefields, this is a can't-miss destination for the lush and peaceful scenery alone, courtesy of the fabled Shenandoah and Potomac Rivers.
Drive time: Half-hour or less
The Restaurant at Patowmack Farm (website)
This farm-to-table restaurant is well-renowned for its homegrown food quality and flavorful dishes. Set on a 40-acre farm with views of the Potomac River and Blue Ridge foothills, The Restaurant at Patowmack Farm is ideal both for a date night and for a curious glimpse into the multifaceted world of modern farming.
Drive time: Half-hour or less
---
We also have exceptional Loudoun County communities in Ashburn and Aldie!