Ready to choose fixtures and finishes for your brand-new or current owner's bathroom? The shower is the perfect place to start!
Your owner's bathroom should be an oasis, the place where you can go to shed your stress and unwind. And what could be more relaxing at the end of a long day than a long, hot shower?
If you're ready to design a stylish, serene owner's bathroom that rivals your favorite spa, we're here to help! Read on as we walk you through some of today's top shower trends so you can feel more knowledgeable as you begin your dream bathroom design.
Shower enclosures.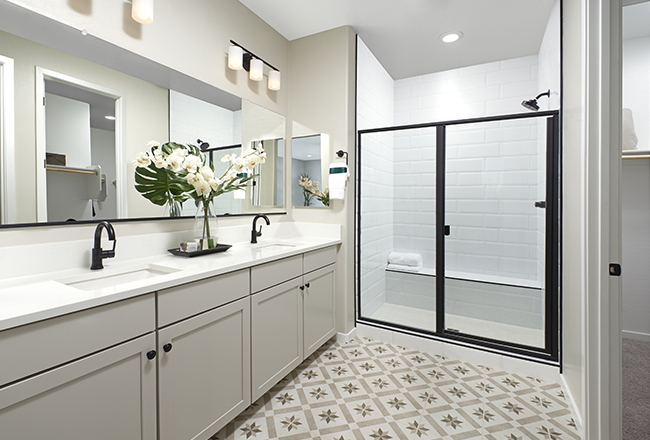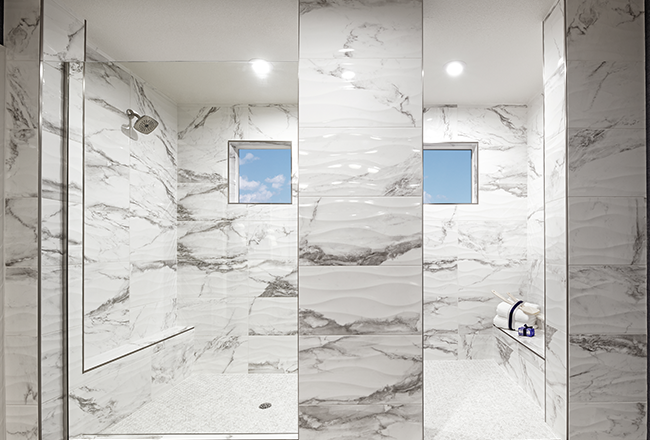 When it comes to the shower, it's all about the enclosure! This essential element serves as the foundation for your overall design aesthetic (and helps set the scene for a spa-worthy experience). There are many options for enclosure finishes, ranging from framed chrome and stainless steel to bronze, glam gold and the presently popular matte black. If you are aiming for a more modern, streamlined look, forget about the frame and opt for a sleek frameless glass shower enclosure. Depending on which enclosure you select, you may even be able to choose your door handle!
Shower tile.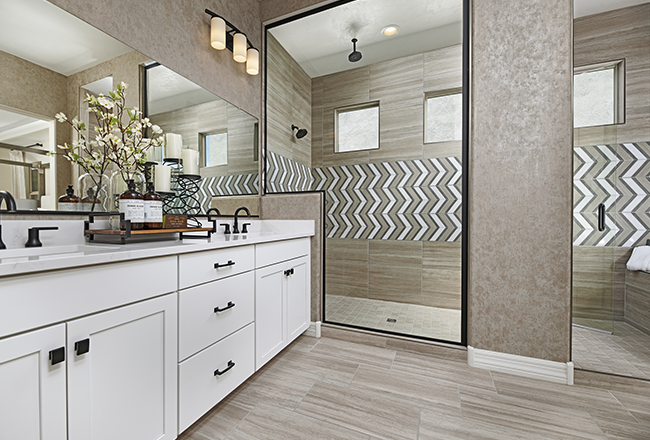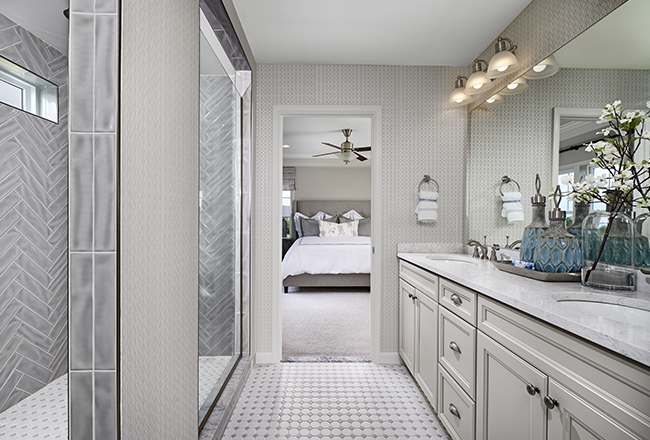 Tile is another wonderful way to personalize your shower design! Large plank-style shower tiles are currently among the most popular picks. Patterns, such as chevron, are also a big hit with today's homebuyers. To add even more visual interest to the space, opt for a field stripe in an eye-catching horizontal or vertical pattern!
When selecting shower tile, don't overlook your shower pan (a.k.a. floor). A fiberglass pan is aesthetically pleasing, or you can choose smaller mosaic tile, such as 2″ x 2″ tile, in a wide range of shapes and shades to offset your shower walls. It may go without saying but be sure to pick colors and/or patterns that complement your other bathroom finishes and fixtures!
Showerhead.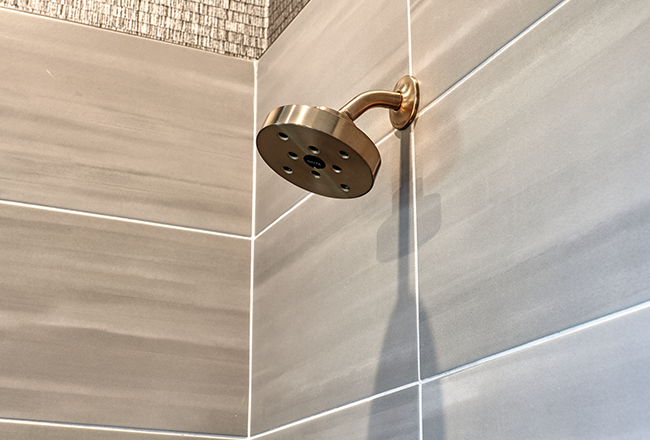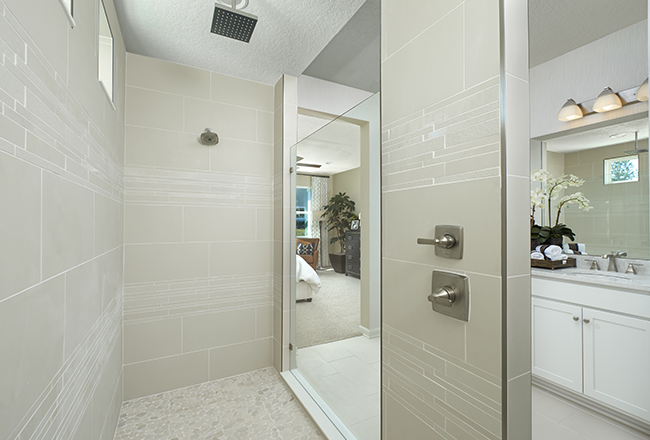 Last, but certainly not least, is the showerhead. Typically available in the same fabulous finishes as today's trending shower enclosures (chrome, stainless steel, bronze, gold and matte black), showerheads also come in a variety of shapes (e.g., traditional round and modern square) and a range of sizes (e.g., 6″ and 12″). Be sure to choose the style that speaks to you!
To add extra drama (and bring on the bliss!), consider installing a rain showerhead or a trio of pendant showerheads. These not only look sharp, they provide a steady, powerful stream of water from above, just as Mother Nature intended.
Dream bathroom design with Richmond American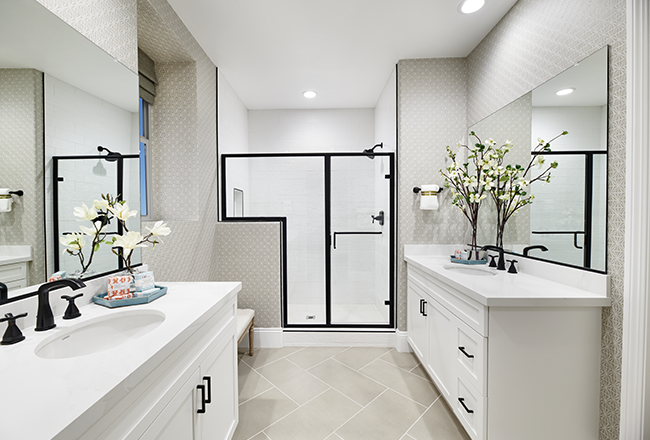 Not all homebuilders offer the same design options, so be sure to ask your builder which shower fixtures and finishes are available. Following are some exciting things to keep in mind when you choose to build a brand-new home from the ground up with Richmond American:
Water savings. All of the showerheads we offer feature WaterSense technology. Unlike standard showerheads, which use 2.5 gallons of water per minute (gpm), showerheads with the WaterSense label use 2 or fewer gpm without sacrificing comfort or performance. For the average family, that translates to an annual savings of 2,700 gallons of water, according to the Environmental Protective Agency (EPA). Why opt for an ordinary showerhead when you can have one that is gentler on both the environment and your wallet? Check out our other green home features.
So many choices! When it comes to designing your dream bathroom, you will have hundreds of popular options to choose from. In addition to selecting your shower fixtures and finishes, you will be able to pick your flooring, faucets, countertops, lighting… the list goes on and on!
Design guidance. Can't decide between shiny stainless-steel and matte-black finishes? Not to worry! You will have an opportunity to work alongside a professional design consultant to choose all the details for your new living spaces, including your owner's bath! Plus, we offer carefully curated packages to ensure your bathroom design is completely cohesive—so all your fixtures and finishes from your lighting and faucets to your showerhead will blend beautifully! Learn more about the Home Gallery™ experience.
Curious about the homebuilding journey?
Learn what to expect from contract to closing and beyond!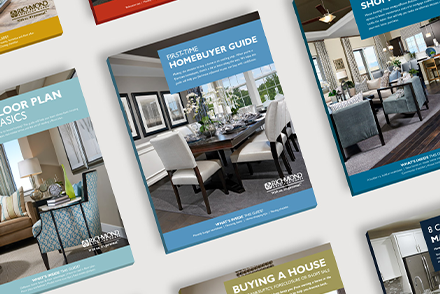 You may also be interested in: