At Richmond American, we take home design very seriously and our curated homes are no exception. Our team of professional designers thoughtfully selects fixture and finish details in our quick move-in homes—from paint color to flooring, and everything in between. When curating their selections, our in-house team carefully considers many factors and aims to effectively balance current design trends with timeless style. Our goal is to provide you with a beautiful home on a shorter timeline, designed for longevity.
In this article, we'd like to explore several noteworthy trends in kitchen and bath design and how we incorporate those elements into our curated homes.
Function and versatility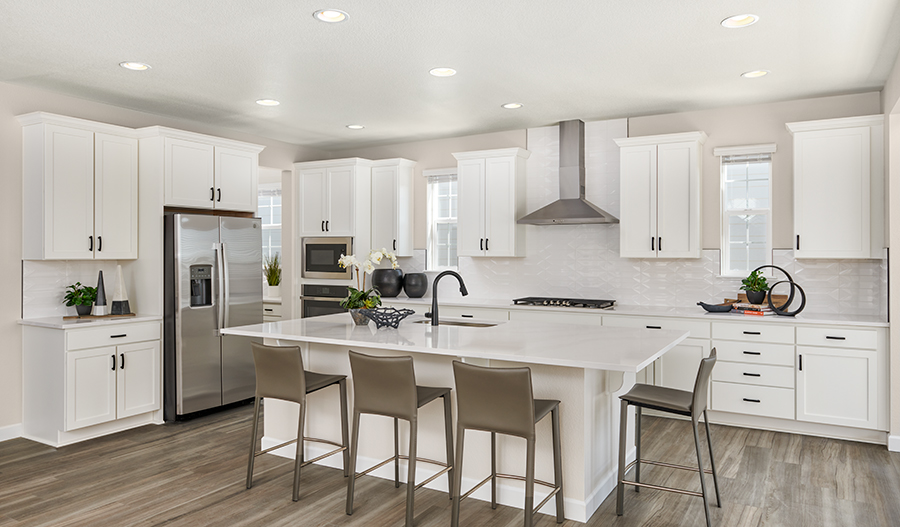 One aspect we've noticed in kitchen and bath design is the growing emphasis on function. Over the past few years, the spaces in our homes have had to become more versatile as we spend an increasing amount of time inside of them. The kitchen, for instance, is not just for cooking—it's also for entertaining, relaxing, connecting with family and even working. Useful features such as large islands and attached pocket offices allow you to utilize the room in a way that makes sense for your lifestyle.
In both kitchens and bathrooms, we've also seen an increased demand for more countertop space, cabinetry and integrated storage, such as pull-out trash cans. Clean, clutter-free aesthetics are popular for both rooms, and additional storage space can make it easier to keep tools, appliances and products out of sight when you're not using them. Easy-to-clean surfaces are another sought-after design element—kitchens and bathrooms tend to be messy spaces, and a lower-maintenance countertop material like quartz can help save you time and energy when tidying up.
We aim to prioritize functionality when building and designing our quick move-in homes. Many of these homes boast abundant cabinetry and countertops, generous center islands and other built-in features that help create versatile, multi-use spaces.
Furniture and accessories
Another notable trend has been unique furniture pieces with creative uses in kitchen and bath design. In our curated homes, the designers embrace a clean and modern look, while maintaining a timeless appeal. These homes are meant to be the perfect slate for you to add your own personality through accessories, artwork and furniture.
In the kitchen, homeowners are gravitating toward items like stylish counter stools and decorative lighting, as well as finding eccentric furniture pieces to use as coffee bars. Popular ideas for the bathroom include bench seating, bold rugs, unique vintage accessories and wood ladders used for storage.
Again, we find a distinct blend between style and function in current trends. Many buyers still want an attractive home with unique and personalized elements, but they also look for something that works for their lifestyle, a perspective which extends to picking out furniture and accessories.
Natural elements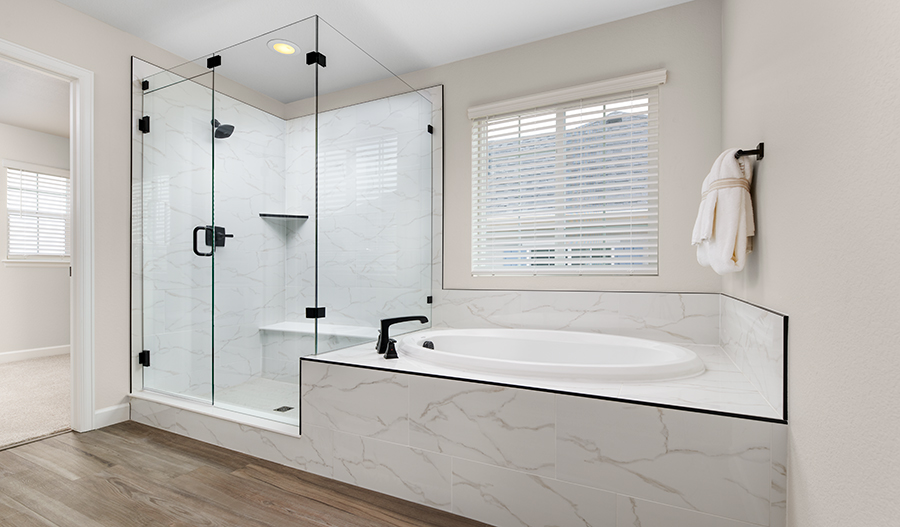 Because many of us have found ourselves spending more time at home over the past few years, it makes sense to crave warm, welcoming and comfortable spaces in those homes. In kitchens and baths, we've noticed that inviting atmosphere being created with natural influences.
Notably, we've seen a resurgence in the popularity of wood for kitchen and bath design. Wood or wood-look flooring is a sought-after way to incorporate this trend, but we also love the use of wood accents to seamlessly achieve a warm aesthetic without overwhelming the space. For our curated homes, the design team steers toward clean, light and classic fixtures and finishes that will pair nicely with the personal touches you choose to add, such as wood furniture, accessories and décor pieces.
The one constant with trends is that they're always evolving to meet changing homebuyer needs. Our designers refer to current trends to help inform their selections, but they are careful to incorporate those elements in a thoughtful way that allows for lasting appeal.
Ready to make your move?
Our free guide walks you through the benefits and the process of buying a quick move-in home. You may not want to wait to watch a home be built when you have this option!