For many people, the kitchen is the heart of a home. Aside from being functionally essential (it's where your family is fed!), the kitchen can also be a place where precious memories are made, whether that's through a family dinner, a holiday baking project or a romantic at-home date night.
When you spend so much time in a room, it's important for that place to fit your needs and fit your style. It's an exciting part of the homebuilding process when you get to design your dream kitchen—from the appliances and the cabinets to the flooring, the backsplash and, of course, the countertops. But, we understand that it also involves a lot of choices!
That's why we've created a helpful guide on how to select your ideal kitchen countertops, including the factors to consider and the differences between materials.
If you're ready to get cooking, read on!
Factors to consider
The two biggest factors when it comes to selecting the perfect countertops are durability and style. You want something that can withstand years of prepping, cooking and entertaining, while also matching the rest of your home's aesthetics.
When selecting your kitchen countertops, you'll be deciding on material, style and color, but there are several different factors to take into account before making those selections.
Here are a few questions to ask yourself first:
Are you looking for something low-maintenance, or are you okay with a material that requires annual sealing?
Do you need something durable and resistant to heat, stains and scratches?
What will your backsplash, flooring, cabinets, hardware and appliances look like?
Do you prefer a material that has a consistent appearance, or are you okay with countertops that have some variation?
Materials
Now that we've discussed considerations, it's time to go over the different material types you'll encounter when choosing your dream kitchen countertops! Below are some of the options generally offered in Richmond American homes.
Granite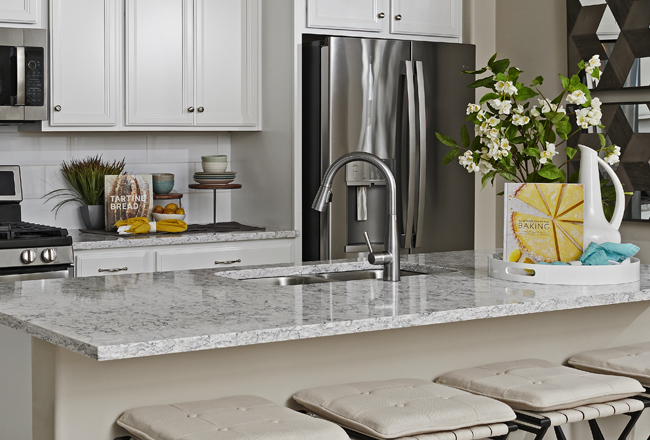 Equal parts elegant and durable, granite is a classic countertop choice for a reason. This material is heat-resistant and offers a sturdy surface for prepping and cooking, but because granite is porous, it does require periodic sealing in order to prevent stains.
As with any natural stone, movement in granite countertops is to be expected—that is, there will likely be some variation in each slab and your countertops may not match up perfectly. For many people, though, this is a benefit! No two granite countertops are exactly the same, which adds a unique element to your kitchen.
Quartzite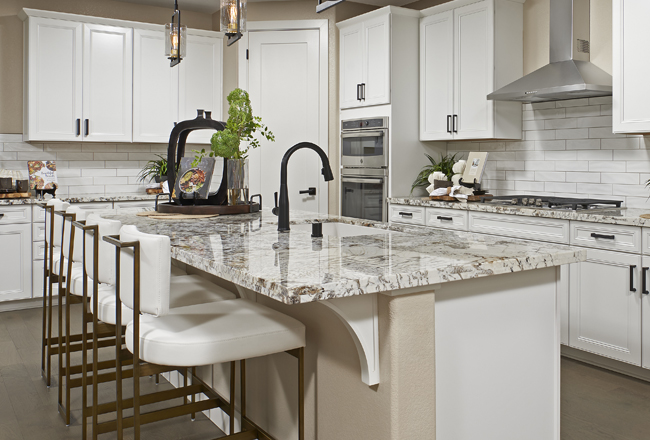 Quartzite, primarily made from loose quartz pieces, is another popular natural stone material. Just like granite, quartzite is durable, heat-resistant and requires annual sealing.
With its delicate veining, quartzite is oftentimes mistaken for marble, although it's much more affordable and easy to care for! This material is a great option for your dream kitchen if you're looking for a luxurious design without the high price tag.
Quartz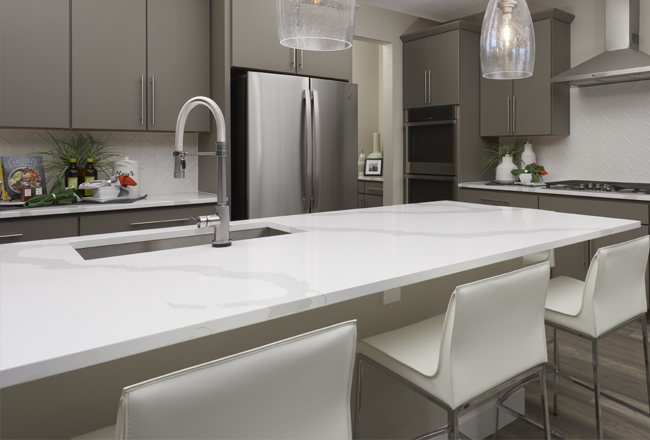 Currently our most sought-after material for the kitchen, quartz countertops make a sophisticated addition to any home. Because it's an engineered stone—made from a combination of natural quartz and other raw materials—quartz is a low-maintenance alternative to granite or quartzite, while still offering a high-end look.
Quartz countertops are very hard and resilient, making them resistant to heat, stains and scratches. Due to their man-made nature, quartz slabs typically have a uniform look and are a great option if you're looking for a consistent appearance. According to our design team, white quartz is currently a best-seller, particularly in the Miami Vena style.
Laminate
Laminate is a plastic-coated synthetic material and has been used for kitchen countertops for many years! Low-maintenance, versatile and easily installed, this material is a classic choice for kitchens and is the standard for our Seasons™ Collection homes. Laminate is currently experiencing a resurgence in popularity and is perfect if you're looking for something stylish, but simple!
Still having trouble deciding on a countertop material for your dream kitchen? Don't worry!
Our professional design consultants are here to help you find the perfect countertops to fit your lifestyle and needs, and will guide you through options for materials, color and style. When you build a brand-new home from the ground up with Richmond American, you'll receive a complimentary consultation at one of our Home Gallery™ locations, which includes guidance on not only kitchen countertops, but also other fixtures, finishes, flooring and more.
Did you know…
In addition to material and colors, you may also be able to select the style of your countertop edges. Flat polished and bullnose are a couple of popular solid surface options we offer. Please speak with one of our design consultants for more details!
For more dream kitchen inspiration, check out our Pinterest board and read our blog articles all about kitchen backsplashes and cabinets.
Please note that countertop selections may vary by region.
First-time homebuyer? Need a refresher?
Get to know the basics of homeownership with our free guide! Financing basics, checklists & more.