As the weather gets warmer and the sun shines brighter, it's only natural to look for entertaining opportunities beyond the walls of your home. Hosting an outdoor party is a great way to take advantage of lovely spring weather. Friends will be eager to mingle after a winter of hibernating, and with no major holidays on the calendar, coordinating schedules should be a breeze.
The key to any successful party? Preparation. Use the following timeline to organize a spring soirée that will blossom with laughter and memories.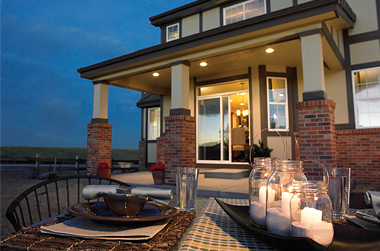 3 WEEKS AHEAD: Plan your menu and send out invitations. Use the food items you'll be serving to inspire your outdoor party theme. For example, jerk chicken with mango chutney might spark a Caribbean cookout, while teriyaki pork tenderloin with grilled pineapple is a surefire recipe for a luau. Start a shopping list and keep it handy so you can easily add items as the event approaches.
2 WEEKS AHEAD: Prep outdoor areas. Wash off patio furniture and make sure you have plenty of seating for guests. Brighten things up with potted flower arrangements, hanging planters and well-chosen lighting for when the sun goes down. Depending on your party theme, try lanterns, tiki torches, votive candles or elegant strings of white lights.
1 WEEK AHEAD: Clean the grill and check essentials like gas, charcoal, lighter fluid, matches and grilling tools. This is also a good time to think about music. If you don't have outdoor speakers or a portable radio, add them to your shopping list. On a budget? Ask around, or see if you can discreetly angle indoor stereo speakers to face open windows.
2 DAYS BEFORE: Go shopping. By now you should know exactly how many guests to expect, plus you can rest easy because your food ingredients will be as fresh as possible. Be sure to look for festive table decorations and settings that accent your theme.
1 DAY BEFORE: Prepare any dishes you can make ahead of time. Mix marinades, trim meats, chop vegetables and bake desserts. Gather bowls, baskets and serving platters so they're ready when you need them. If you're planning outdoor games like volleyball, badminton or croquet, now's the time to set them up.
DAY OF: Assemble the rest of your menu, set the table and put out appetizers and drinks. If you're using a charcoal grill, allow 30 – 45 minutes for the coals to heat up. Then, plan your cooking time so the main entrée will be ready within an hour of guests' arrival. Finally, don't forget the most important step of all: Enjoy!
Looking for more entertaining ideas? Check the Homeowner Resources section of our blog for recipes, decorating ideas and more.