Explore San Diego's mix of beautiful weather and well-rounded lifestyle
San Diego is part of Southern California and offers a rich variety of pursuits, including big-city life, beaches, culture and recreational activities. SanDiego.org describes the beaches: "from quaint Coronado to family friendly Carlsbad to artsy Encinitas and posh La Jolla … each seaside town beckons with beautiful beaches and a taste of San Diego's SoCal lifestyle." Buying a home in the San Diego area can lead to a balanced life of physical activity, culture, fine dining and more. San Diego residents also enjoy amazing weather with a daily average temperature ranging from 65° to 75° year-round.
Entertainment and Culture
La Jolla is a posh area and a fun place to shop, dine and view art. The beach town even has dog-friendly beaches.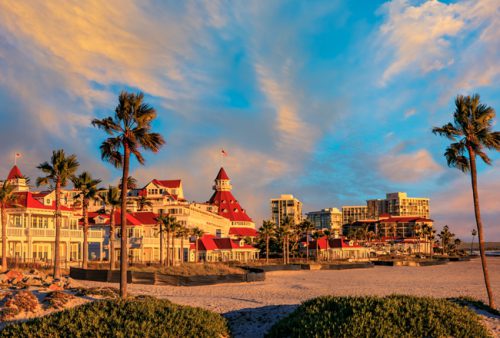 Coronado is a peaceful spot with fun activities. The historic Hotel del Coronado has beachfront dining, movies on the beach, painting by the sea and more. There is also a Navy SEALs Base in Coronado.
This museum has photography, paintings and furniture exhibits. The venue also hosts a number of special events.
If you're seeking a unique evening, look no further than the Balboa Theatre. Here, you can enjoy movies such as Jurassic Park, as well as watch the Malandain Ballet Biarritz and enjoy talks with famous authors such as Neil Gaiman.
Kid-friendly Activities
The San Diego Zoo is no ordinary zoo. Visitors can feed giraffes and hippos, spend early mornings with pandas and take a guided bus tour. The zoo is a must-see in San Diego.
The San Diego Zoo Safari Park features a Caravan Safari, Cheetah Safari, Cart Safari, Jungle Ropes Safari, Flightline Safari, Behind-the-scenes Safari, Roar & Snore Safari and Ultimate Safari. Visitors can enjoy zip lining, camping and ropes course activities in the park.
Sea World has rides, shows, animal interactions, tours and more.
Attractions
This museum has both exhibits and activities and was voted the #1 thing to do in San Diego by TripAdvisor®. Visitors are able to explore the Midway Aircraft carrier. There are also flight simulators, interactive exhibits and short films.
Going to the Old Point Loma Lighthouse offers the opportunity for indoor activities, outdoor activities, guided tours and special events. There are a number of educational lectures given at this location as well.
This natural reserve has 1,500 acres of undeveloped land to enjoy hiking, beautiful scenery and wildlife. This is a protected area, so be sure to stay on designated paths and not to bring dogs.
Dining
Lionfish features sustainable seafood. Be sure to try the Fresh Catch, sushi or Peanut Caramel Tart.
This deli elevates the sandwich to a work of art. Don't miss the Burrata and Chimichurri Steak.
The full name of this restaurant is Streetcar Merchants of Fried Chicken, Donuts & Coffee. It has a trendy feel and unusual menu. Check out The Southerner Deluxe and Creole Potato Salad.
Education
Higher education is a priority in California. If you're looking to pursue a degree, you have several options in this area. The following universities are located in the San Diego area:
UC San Diego offers a quality education and the enjoyment of beach life. The university offers programs in Art and Humanities, Biological Sciences, Engineering, Physical Science, Management, Global Policy and Strategy, Medicine, Oceanography, Pharmacy and Social Sciences.
This university has a College of Humanities, Arts, Behavioral & Social Sciences, Interdisciplinary Offerings, College of Business Administration, College of Education, Health & Human Services, College of Science & Mathematics and Extended Learning opportunities. Popular extracurricular activities include athletics, clubs and special events.
San Diego State University has a focus on leadership. The school offers programs in Education, Engineering, Health and Human Services, Sciences, Business Administration and more. Popular ways to spend time outside of class include athletics, community service, Greek life and student organizations.
Moving to the San Diego area
A popular relocation destination, San Diego has something for every homebuyer. New construction homes available in San Marcos allow residents to enjoy the ease of convenience of a brand new home with quick access to San Diego amenities. As a relocator, you may want to consider San Marcos.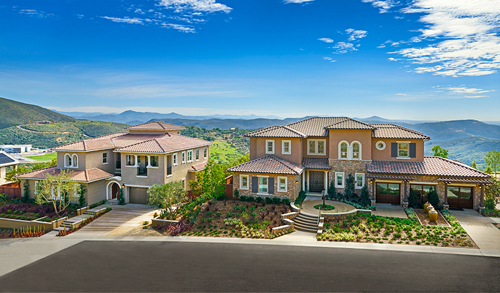 San Marcos is an excellent place to call home. The Summit at San Elijo Hills is a luxurious masterplan with a number of amenities. The community is set among the rolling hills of San Diego's picturesque North County. San Elijo Hills blends an inviting, small-town atmosphere with breathtaking scenery and convenient amenities. Residents enjoy easy access to notable San Marcos Unified District schools, community parks, over 1,000 acres of open space, 18 miles of trails and a charming town center with retails shops and community services—all just miles from the Pacific Ocean.
Search new homes in the San Diego area, starting from $1.1 million at RichmondAmerican.com. Our local New Home Specialists are well-versed in the area and can help point you in the right direction during your new home search. Call us today 760.653.7011.