[metaslider id=16145 cssclass=""]
Explore Denver's pleasing blend of culture and outdoor recreation
Denver is part of the Rocky Mountain region, which offers a rich variety of pursuits, including big-city life, hiking and skiing to help you stay in shape and enjoy all this region has to offer. Denver.org describes the area: "where 300 days of sunshine, a thriving cultural scene, diverse neighborhoods, and natural beauty combine for the world's most spectacular playground." Buying a home in the Denver area can lead to a desirable lifestyle with physical activity, culture, fine dining and more.
---
History of Denver
Denver, Colorado has western roots and a rich history rooted in the mining and ranching industries. The city is now a modern place to live and growing quickly in popularity among millennials. According to the Denver Business Journal, the city's "progress in attracting millennials is the true indicator of Metro Denver's future economic success."
Professional Sports
As many know, sports are a big deal in Denver. The city is often known as a football town with the Denver Broncos, but there are many other sports teams to follow. Colorado Rockies baseball games are a favorite summer pastime for many locals. The Colorado Avalanche and Denver Nuggets draw large crowds as well.
City Attractions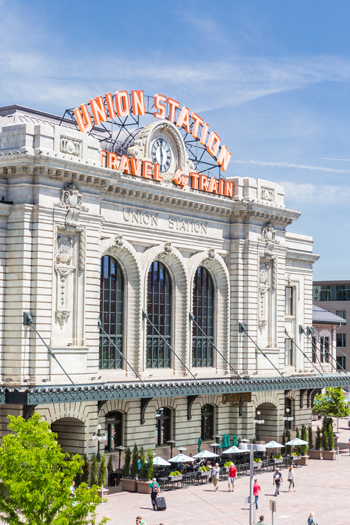 Recently revitalized, Union Station is a hot spot with excellent restaurants, a hotel and specialty shops. It still has all the practical elements of a transportation hub with both train and bus service to many areas, including Chicago and Winter Park.
The 16th Street Mall is a unique part of downtown Denver. There are many dining and entertainment options along the route. There is also a free bus that runs along 16th Street for those who are in a hurry or don't wish to walk the full distance. The Denver Pavilions is located on 16th Street and includes a movie theater, upscale bowling alley, live music, restaurants and a number of popular stores.
The Denver Zoo is located in City Park. The zoo has recently added a new elephant exhibit, as well as a new home for the tigers. Don't miss the phenomenal Zoo Lights display during the holiday season, featuring an abundance of animal-shaped lights. There is even a rumor that the lights are set up in the summer in order to plan for this popular event.
Also located in City Park since 1908, the Denver Museum of Nature & Science has both permanent and visiting exhibits. Popular exhibits include Expedition Health®, Prehistoric Journey, Space Journey and Egyptian Mummies. Be sure to check out the IMAX movies as well.
Culture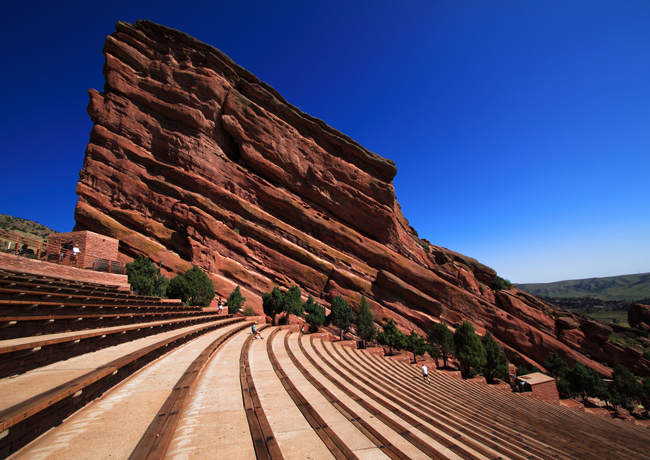 There is no better place to see a concert. Even if you don't get to see your favorite band, the view from Red Rocks is well worth the trip. Many famous artists such as The Beatles, U2 and James Taylor have performed here. If live music is not for you, Film on the Rocks and Fitness on the Rocks are other great ways to enjoy this beautiful venue.
In addition to being the home of the Colorado Avalanche and the Denver Nuggets, the Pepsi Center is also an amazing concert venue that hosts a number of top-tier artists. Coldplay, Adele, Neil Diamond and Billy Joel all performed here in recent years.
The Denver Botanic Gardens is a fun and beautiful place to spend time. The venue has rotating exhibits that showcase the works of famous artists, such as Chihuly. Unexpectedly, the botanic gardens is an excellent place to visit in the winter. Be sure to check out the holiday Blossoms of Light display with intricate light displays in the shape of flowers. If Halloween is your holiday, Glow at the Gardens is for you. This fall event features large pumpkin displays, live music, free face painting, a costume contest, scavenger hunt, LED circus performers and more.
The Botanic Gardens location at Chatfield Farms offers a Lavender Festival, Corn Maze, Pumpkin Festival and Santa's Village. Both locations host a summer concert series.
Mountains and Recreation
Many homeowners come to Colorado for the mountains and stay for the high quality of life. Regardless of the season, Coloradans can be found in the high country. Hiking fourteeners (mountains over 14,000 feet high) is a source of pride for many. MindBodyGreen ranks Colorado as the healthiest state in the country. There are many entertaining ways to stay active and pursue a healthy lifestyle in Colorado.
Biking is a popular source of transportation, exercise and entertainment in Denver. The Denver B-Cycle program allows you to rent a bike and return it to a different spot. It is a practical way to have access to a bicycle without purchasing your own. Denver B-Cycle offers membership options if you'd like to use the service regularly.
Dog lovers often spend time in Washington Park, and Denver residents use this park year round. You can even see people cross-country skiing in the snow on the park paths during the winter. Other popular activities in Washington Park include tennis, volleyball and biking. Conveniently, there is a specified path for bikes that is separate from pedestrians. Often referred to as Wash Park by locals, the 155-acre park also has a recreation center, playgrounds, lakes, a boathouse, and many picnic spots. Visitors can rent paddle boats as well. Located near I-25, homeowners in many parts of the Denver metro area enjoy spending time at Washington Park.
Many ski areas are a quick drive from Denver. Arapahoe Basin, Winter Park, Vail, Beaver Creek, Loveland and Aspen are all popular choices for skiers of all levels. Ski resorts also offer ski and snowboard lessons as well as many special events throughout the year.
Dining
Denver has an ever-expanding list of excellent dining options. From historic family businesses to modern cuisine, you are sure to find an abundance of satisfying restaurants.
Located amongst many popular restaurants on 17th Avenue near downtown Denver, Steuben's stands out for its unique dishes and trendy vibe. The restaurant received 5 Westword "Best of Denver 2017" Reader's Choice Awards, including Best Macaroni and Cheese, Best Food Truck/Cart, Best Late-night Happy Hour, Best French Fries and Best Kids' Menu. With two convenient locations, you won't want to miss this local favorite. They also offer a gluten-free menu and can accommodate many other dietary restrictions.
This south Denver institution was featured on Diners, Drive-ins and Dives. In 2017, Colorado Governor John W. Hickenlooper even named the first of April as Bagel Deli Day! Diners enjoy classic deli sandwiches and breakfast food, baked goods, deli take-out and more.
If dessert is your favorite meal of the day, you won't want to miss D Bar. Located in the heart of downtown, this restaurant—owned by Food Network Celebrity Chef Keegan Gerhard—is sure to impress. While you can find delicious entrees such as the Pizza Salad Sandwich, Kobe Sliders and Bacon Mac & Cheese, you really shouldn't leave this restaurant without dessert. Local favorites include Mini Churros, Seasonal Sweets and Liquid Desserts. You can also visit D Bar for afternoon tea.
Colorado is known for its craft beer. Popular breweries to visit include Alpine Dog Brewery, Avalanche Brewing Company, Aspen Brewing Company, Avery Brewing Company, Coors Brewery, Rock Bottom Brewery and many more.
Moving to the Denver Metro Area
If you're looking to move to the Denver area, there are many communities that provide the exceptional Colorado lifestyle outside of the city center. New construction homes available in the following areas allow residents to enjoy the ease and convenience of a brand new home with quick access to Denver amenities. As a relocator, you may want to consider the following Denver area cities and suburbs:
Aurora is located southeast of Denver. Many Aurora residents enjoy being part of the well-known Cherry Creek School District. Aurora also has excellent golf courses, Southlands Mall and the Aurora Reservoir. Commuters have a quick drive from Aurora to the Denver Tech Center.
Brighton is north of Denver. It is a fast-growing area with a variety of shopping and dining options. Brighton residents also have quick access to downtown Denver for a daily commute. Brighton homeowners enjoy spending free time at Barr Lake State Park with camping, trails, archery, biking, birding, boating, fishing, hiking, horseback riding, ice fishing, paddle boarding, sailboarding and snowshoeing.
Located north of Denver and east of Boulder, Broomfield could be mistaken for a commuter town. Not so! While many do commute to the larger cities, Broomfield is home to large employers like Ball Corp., Level 3 Communications, Oracle Corporation, Vail Resorts, Noodles & Co. and many more. All the business interest in Broomfield has made retailers take notice; for example, IKEA announced plans to locate its second Denver-area location to the thriving town. From concerts at 1st Bank Center to shopping and dining at FlatIron Crossing Mall, Broomfield is a great place to call home. Just ask Money Magazine!
Castle Rock is south of Denver. Enjoyable ways to spend time in this area include an excellent outlet mall with a picturesque mountain backdrop and a charming downtown. The town also has a number of excellent golf courses. Castle Rock residents can easily commute to the Denver Tech Center.
Centennial is a popular place to live for a number of reasons. The Cherry Creek School District and an easy commute to the Denver Tech Center top this list for many homeowners. The Park Meadows shopping area just to the south also offers a number of desirable amenities.
Commerce City is an up and coming area northeast of Denver. Reunion is a stellar master-planned community here with a recreation center with a gym, lap pool, kids' pool with water features, pavilion, indoor basketball court and playground. Reunion residents also enjoy 52 beautiful acres of parks, lakes and trails. Living in Commerce City allows quick access to downtown for a daily commute.
Englewood is located south of the Denver Metro area with easy access to I-25, business centers, the Denver Tech Center, and excellent restaurants. Englewood is also home to a number of well-known golf courses.
Highlands Ranch is located south of Denver. Money Magazine ranked Highlands Rach as the sixth best place to live in 2016. A notable school district, trails and recreation centers make Highlands Ranch a desirable place to live. Nearby Park Meadows Mall and an easy commute to the Denver Tech Center are other appealing reasons to relocate to Highlands Ranch.
Littleton is an established city south of the Denver metro area. Littleton residents enjoy easy access to downtown Denver via the light rail. Downtown Littleton also has fun boutiques and restaurants. Shopping at the outdoor Aspen Grove shopping area is another perk of living in Littleton.
Located west of Denver, Morrison residents have quick access to Red Rocks, golf courses, and stunning hiking trails. Homeowners in this area also enjoy a close connection to nature with a mountain backdrop.
Parker is located southeast of Denver. It is a great place for families with a notable school district and community feel. Parker also has a charming downtown area. Those who work in the Denver Tech Center enjoy a quick commute from Parker neighborhoods.
Thornton is north of Denver. Thornton residents enjoy quick access to downtown Denver while still enjoying a more peaceful, suburban lifestyle. There are plans to build a 124th Avenue rail station to more easily connect Thornton residents to other parts of the Denver area. Water World is a nearby place to spend free time with a Caribbean Family Adventure, Cimarron River, Lazy River and many other attractions.
---
Search new homes in the Denver area, starting from the low $300s at RichmondAmerican.com. Our local New Home Specialists are well-versed in the area and can help point you in the right direction during your new home search. Call us today at 303.850.5760.