Taj Mahal Quartzite Kitchen Countertops from Arizona Tile

Natural stone countertops are the star of any kitchen. From classics like granite and marble to unique options like quartzite, stone slab countertops are timeless, beautiful and one-of-a-kind. If you're considering installing natural stone countertops in your kitchen, you're probably wondering how to properly maintain and clean them. Let's take a look at some top tips from our vendor Arizona Tile for ensuring your natural stone kitchen countertops look their best for years to come.
A Word on Natural Stone
If your dream kitchen features natural stone countertops, you're not alone. There's something special about choosing the perfect stone to make your kitchen complete. When it comes to natural stone, no two slabs are the same, which means your kitchen will be truly unique.
Due to the nature of stone, there are inherent variances in all stone countertops. You'll see color and shade variations, irregular veins, minor pitting and more from slab to slab. Some of these variations are repaired by filling, grinding or waxing the stone but will not impair the function or durability of your countertops.
The best way to ensure your natural stone kitchen countertops stay in great shape for many years is to properly care for and maintain them.
The Importance of Sealing
For long-lasting beauty and stain resistance, it's usually best to seal your stone countertops after installation, especially in a busy and spill-prone kitchen. For best results, use a high-quality penetrating sealer. A good sealant penetrates into the stone to protect it while allowing the stone to breathe and its natural beauty to shine. Unsealed stone is susceptible to absorbing moisture, stains, dirt and cleaning chemicals.
Depending on how much you use your countertops and the type of sealer you use, it may need to be reapplied every one to three years.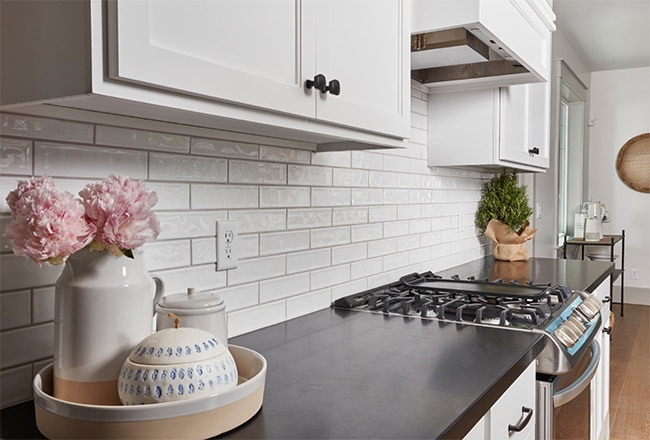 Indian Premium Black Honed Granite Kitchen Countertop from Arizona Tile
Everyday Care & Cleaning
When it comes to keeping your natural stone counters clean and free of stains and scratches, a regular maintenance regimen is key. It's not complicated to care for natural stone, but you do need to be careful. Follow these basic cleaning steps to ensure your natural stone countertops last through the years:
To clean, wipe with warm water or a pH-balanced natural cleanser.
Do not use harsh or acidic cleansers such as vinegar, glass cleaner, bleach, ammonia, grout cleaner or lemon juice on natural stone. Also avoid any scouring powders or creams, which could scratch the surface.
If you use a natural stone cleaning product, be sure to rinse it afterward to remove any residue.
Dry with a soft cloth to prevent water spots.
Clean up all spills immediately to avoid potential stains, whether your counters are sealed or not.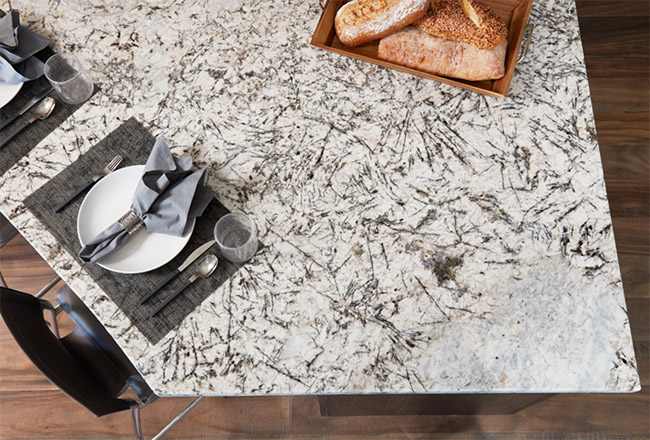 Crystal Blue Granite Kitchen Countertop from Arizona Tile
Preventing Spills & Damage
In addition to keeping your countertops clean and avoiding harsh products, we recommend a few other precautions in the kitchen:
Acid-based foods, such as citrus fruits or tomatoes, can etch the polish of certain stones, particularly marble. Use extra caution to keep these foods from spilling onto your stone counters—and if they do, blot the spill up right away.
Do not place hot items, such as pots or pans, onto any natural stone surface. Some stones are resistant to heat, but repeated exposure can damage the sealant or polish on your counters.
It's a good idea to use coasters, cutting boards and trivets on countertops just to be safe.
Marble is particularly prone to etching from acidic foods and drinks like coffee and juice, as well as caustic cleaning products. Corrosion of the stone's surface can appear as a dull spot, spray mark or "stain." Luckily, etch marks can usually be repaired with an etch remover/marble polish.
For more information on keeping your stone countertops clean and shiny, check out these care & maintenance tips from Arizona Tile.