It's easy to fall in love with a model home kitchen, and not just because the sink is dish-free! Here, we explain the basic design elements used in our elegant Lauren model home in Tucson.
Finishes & fixtures
More than any other room in the home—except, perhaps, the bathroom—a kitchen's ambiance is at the mercy of features that aren't easy to change. The cabinets, countertops, backsplash and flooring you choose establish a large part of its character.
The genius in this kitchen's design is its high-contrast mise en scène. Like a little black dress, the dark-and-light foundation can be accessorized in a variety of different styles to satisfy your changing tastes over time. Tired of yellow? Trade the lemons for apples and the yellow ceramics for red. Want something more sleek and industrial? Swap out the pendants for exposed-bulb or stainless-steel lighting and the upholstered bar seating for something with a more mechanical structure, like Allen stools. Looking for more romance? Consider a crystal chandelier, sink-side orchids and floral window shade.
For the dark aspects of this model home kitchen, our designers chose a Cherry cabinet with Java finish by Mastercraft and Kinetic Khaki glass tiles by Daltile®. Balancing that is a clean expanse of Lucerne™ Matterhorn porcelain tile flooring by Emser® Tile and richly variegated Bianco Antico granite countertops. Stainless-steel GE® appliances align themselves visually with the cabinet hardware and faucet.
Furniture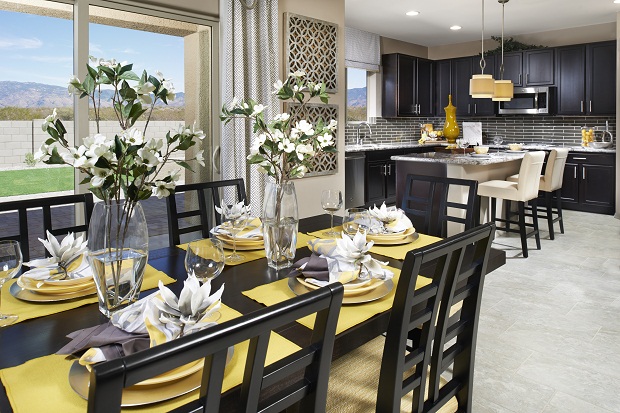 The bar seating, Crate&Barrel's Lowe leather bar stools in Ivory, was selected for its tailored lines and contrasting tones. Notice how well it matches the Tony Taupe Sherwin-Williams® paint used on the breakfast bar and walls. In the adjacent dining area, a Mandalay Zen table and Broyhill Perspectives chairs echo their shape and dark simplicity without directly duplicating it.
Lighting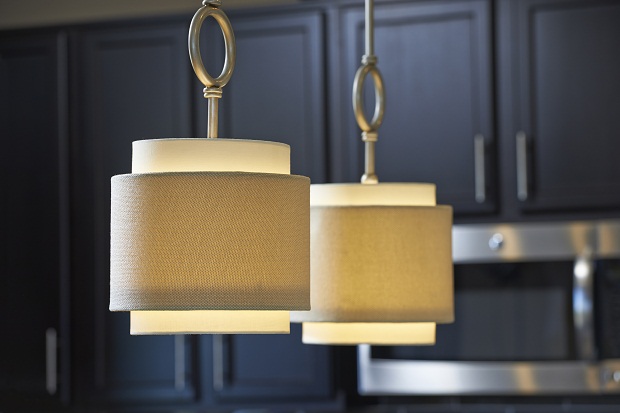 Lighting is often seen as a room's crown jewels. Here, our designers have chosen Ashbury pendants by Progress Lighting. They bring a touch of texture and warmth to a space that is—for the sake of cleanliness—otherwise smooth and shiny. A chandelier from the same design family was used in the adjacent dining area, effectively tying the two spaces together.
Window treatment
Accenting the kitchen's other dazzling light source, the window over the sink, you'll find a custom-made shade using Robert Allen's Split Squares in Smoke fabric. The same fabric was used in the drapes at the dining area's patio doors and in the great room window's curtains.
Accessories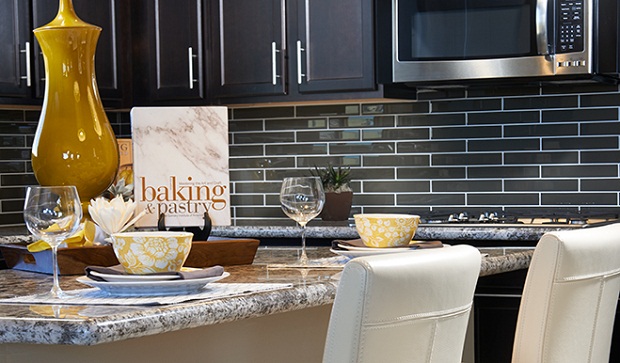 Accessorizing a kitchen is a very personal process for any chef, but there are some cues you can take from our design and apply to your own workspace. Above all, remember that your kitchen should feel comfortable and convenient to use, as well as attractive.
If you have containers or small appliances that will live on your counter, try to match them to either the stainless-steel and black of the main appliances or the accent color you've chosen for the room (in this case, a rich mustard yellow). Some small appliances—such as stand mixers and toasters—are available in a variety of colors, but keep in mind that you may be stuck with those colors if you decide to refresh your décor often. Black, white, gray or steel may be safer options.
Natural items, like fruits, nuts, vegetables, branches or flowers add a fresh, living quality to a kitchen, even if they're artificial.
Place settings at the breakfast bar are an inviting detail and also an opportunity to carry your accent color through the room. Choose dinnerware and linens that complement your palette. If you have an adjacent nook or dining room, use the same colors in different patterns or dish styles to create a tablescape that further ties the two rooms together.
If you have room for wall art, don't be afraid to go bold. Here, our designers have chosen a pair of IMAX Pandora wall mirrors. The mixed metals and geometric pattern are just right for the spot between the kitchen and dining areas.
Have a favorite cookbook? If the cover's color scheme fits the room, set it on a book stand and let it serve double duty as reference and ornament. If it clashes, consider adding a decorative dust jacket in the right color and style. It will enhance the décor and help protect your book from spills.
Have you fallen in love with one of our model homes? Let us know! We may choose to feature it in a future design how-to. Email questions or suggestions to questions@richmondamerican.com.
Want to see more photos like these? Follow us on Pinterest and Facebook to see our latest designs.