Building a new home can be one of life's most rewarding experiences, but can also be a time filled with questions. From breaking ground to moving in and getting settled, make sure you choose a builder willing to provide personal care every step of the way. It's important that you walk away with both a home you love and a positive experience you'll always remember.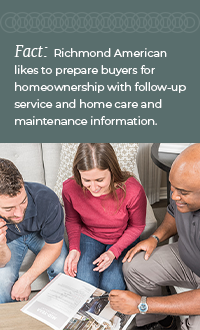 What you should know up front is that every builder has a slightly different home building process after you contract. There's no manual everyone uses with steps to building a house. That being said, keeping communication open will be key. Don't be afraid to ask what to expect and who you can contact with concerns or questions. After all, this is your dream home and you deserve nothing but the best customer service available.
Questions to ask about the home building process
Will I receive regular updates on my home's progress?
Can I tour my home after drywall? Before I close?
What's the process for selecting colors and finishes for items like cabinets and countertops?
Who's my go-to contact person when I have a question?
These are questions you can ask even before you contract on your dream home. And if you aren't getting straight answers, beware! If your builder can't answer these simple questions about the home building process before they make the sale, what kind of service will they be able to provide down the road?
If you choose a dedicated builder like Richmond American, you'll have an opportunity to meet team members who will work with you and oversee construction of your new home. Your Construction Superintendent and Sales Associate will give you a complete overview of the home building process, answer your questions and prepare you for the adventure ahead.
Haven't found the perfect floor plan or homesite yet? Search our interactive floor plans or call a Richmond American New Home Specialist at 888-500-7060.
If you like this article, get your free copy of our guide, New Home Buying Basics! It's filled with helpful homebuying tools and tips about the homebuilding process.