When the COVID-19 pandemic first arrived in the U.S. in the spring of 2020, nearly every aspect of daily life was affected—including the ability to conduct in-person model and quick move-in home tours.*
Given that personalization is a primary component of the Richmond American homebuying experience, we were immediately faced with a significant challenge in terms of helping house hunters find homes of their dreams. Luckily, with some creative problem solving and modern technology (thanks, Facebook!), we found a great way to stay connected with everyone and share many of our floor plans with potential homebuyers across the country: virtual home tours.
Our sales centers are now open, but because we received so much positive feedback, our virtual home tours are still available to stream via YouTube. So, if you're curious about our homes or our innovative personalization process, be sure to check them out!
A sneak peek at two videos
In the below video, Denver-based design consultant Jeane'e walks you through the home design process by touring our innovative Home Gallery.™ This provides a good idea of what the actual experience is like, starting with an overview of cabinet designs and progressing through flooring, kitchen fixtures and finishes, appliances and more.
Another popular video from last year explores a selection of flooring options. Design consultant Natalie conducts "Wood-look Flooring 101" as she walks you through a trio of Color Studios in the Southern California Home Gallery.™ Color Studios include color-matched paint, tile, etc. and help homebuyers provide a cohesive look and feel throughout their living space.
The benefits of laminate, luxury vinyl plank and porcelain tile flooring are all outlined in Natalie's video, which you can watch below:
Ready for an in-person home tour? Schedule it today! View health and safety updates at RichmondAmerican.com/COVID-19.
Here are some additional homebuying resources:
First-time homebuyer? Need a refresher?
Get to know the basics of homeownership with our free guide! Financing basics, checklists & more.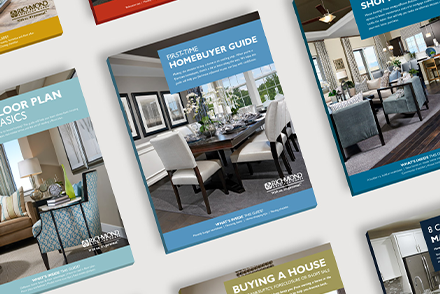 Personalization options, finishes and features included in the videos may not be available or may change. Availability may vary by community, plan, build status, elevation and/or location. Home Gallery™ processes and procedures may change.