Nicknamed the "The Sun Porch of America" in 1926 by its founder, the Atlantic Ocean-facing Boca Raton, Florida, has long been one of the nation's poster cities for luxury living. We cover miles of beaches, a bustling downtown sector packed with great shopping, dining and music, and a wealth of budget-friendly amenities and activities to show you why Boca Raton is one of the most inviting places of luxury to call home.
Fun in the Sun
If you like playing outside, life in Boca Raton won't disappoint. With recreational options such as four miles of public beach, 30-plus miles of bike trails, an oceanfront golf course and a sprawling park system comprising hundreds of acres, you'll never be at a loss for what to do in Boca. Here are some of our must-see destinations.
Gumbo Limbo Nature Center
The multifaceted Gumbo Limbo functions as a center for nature conservation, environmental education and ecological research. Its 20 acres of protected land serve as a refuge for all manner of coastal and ocean life, including sea turtles, fish, lobsters and sharks. There's even a butterfly garden. We recommend signing up for a turtle walk, where you just might see some hatchlings make their first run toward the ocean.
Sugar Sand Park
Boca Raton has an abundance of sprawling parks to show off its natural beauty, but the 132-acre Sugar Sand Park deserves special mention. Essentially one mammoth playground, you could easily spend a day at any one of Sugar Sand's numerous attractions, which include a 14,000-foot athletic center humbly named the Field House, the Children's Science Explorium—a discovery center teeming with fun scientific activities and exhibits—and the Willow Theatre, where locals can enjoy top-notch stage productions.
Shopping & Entertainment
Mizner Park
The redeveloped Mizner Park downtown center in Boca Raton doesn't just offer great shopping; it's an enriching cultural experience that encompasses gourmet food, the iPic movie theaters and the Boca Raton Museum of Art. It's also home to the Mizner Park Amphitheater, which attracts musical acts from all over the nation. Local tip: if you don't want to pay the price of a concert ticket, you can still hear music from the amphitheater wafting out over the plaza as you enjoy an evening stroll.
Town Center at Boca Raton
For those power shoppers that like a mall's mall, look no further than the Town Center at Boca Raton. With over 200 stores, including six department stores, you could quite literally shop till you drop, or at least until you're famished, at which point you can replenish at one of the many eateries scattered throughout the mall.
Robust Local Economy
One of the key elements undergirding Boca's culture of fun and luxury living is its thriving local economy, making the city a place to both play and stay. Boca Raton has a longstanding tradition of nurturing innovative startups that boost the local economy. Just consider that IBM developed the first PC there in 1981, as well as that 3Cinteractive, Forbes' most promising company in 2013, calls Boca Raton home. Add to that Boca's thriving higher-education sector, consisting of five university/colleges, and it's little wonder that the city currently basks in a 4.8% unemployment rate, blowing away the national rate of 7.3%.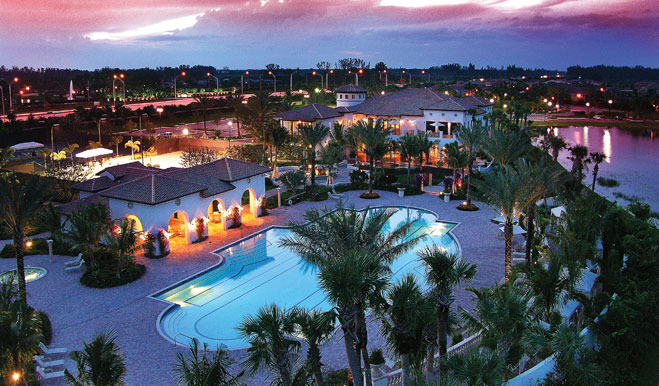 Club pool in the Oaks at Boca Raton
Ready to make Boca Raton your home? It's easy to see why. Check out our new luxury community now selling:
The Oaks at Boca Raton
New homes from the $800s
Up to approx. 6,650 sq. ft.
View community »