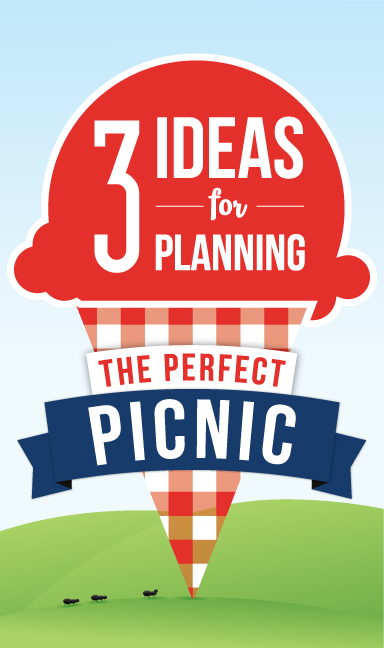 Summer is winding down and school supplies line the store shelves. Now is the time to enjoy the outdoors before the weather shifts in many areas of the country. And what better way to make the most out of warm days than a picnic? Summer picnic planning can be as simple or as elaborate as you like. Check out these three unconventional ideas: 
1. Finger food feast
If dining al fresco sounds great, but PB&J isn't your style, skip the traditional main-side-dessert model and go with finger foods. Sliced fruits and vegetables, nut butters, cheese, salami and French bread can make for a rich spread with little assembly. Olives, figs, crackers and chocolates also make great additions.
Kick it up a notch…
For unique picnic gear, check out Picnic at Ascot. You can select a fabric and then choose from a variety of baskets and carriers, many with built-in coolers and pockets for plates and utensils.
2. Ice cream sundae bar
Ice cream? On a picnic? It's possible with Zak! Ice Cream Container Tubbies. These tubs feature thick insulation and a freezer-gel lid that can keep ice cream cold for hours. Simply pack a few tubs of your favorite flavors, bring along a variety of toppings and have family members or guests create their own sundae masterpieces on site. Opt for paper bowls and plastic spoons for the easiest cleanup.
Kick it up a notch…
To make the event even more special, make your own ice cream to serve at your picnic. Check out these recipes from the Skinny Mom blog. Or, for those with common food allergies, check out this book on dairy-free ice cream. The author also features recipes for chocolate ice cream and strawberry frozen yogurt on her blog.
3. Time for takeout
Not a whiz in the kitchen? No problem! Opt for takeout and spend the majority of your energy creating ambiance. Beautiful blankets, cushions and colorful dinnerware can set the stage for amazing food. Bring along tiki torch lanterns for dining into the night.
Kick it up a notch…
For a larger group picnic, give guests takeout assignments. Send one person out for those to-die-for sweet potato fries at the local grill, another for sandwiches at an artisanal deli and a third for cupcakes from a favorite bakery. It's a great way to enjoy your favorite restaurant fare—all at once!
For more ideas, follow our Picnic Inspirations board on Pinterest!
Richmond American Homes takes pride in selecting neighborhood locations near schools, local amenities—and parks—where you enjoy picnics and other outdoor recreation. Go to RichmondAmerican.com to start your home search today.